Proof Ant-Man Is Totally in 'Avengers: Infinity War'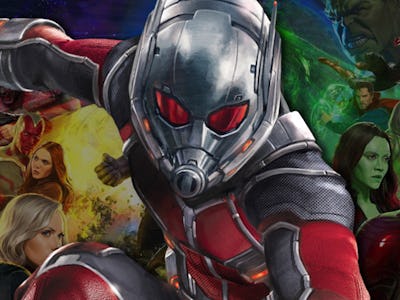 Marvel Entertainment
Take a glimpse at the epic poster for Avengers: Infinity War and you may notice something's missing. No, it's not the Defenders, but Ant-Man, who had his own movie in 2015 and was included in 2016's Captain America: Civil War. Until now, it was all but confirmed that Ant-Man/Scott Lang would appear, let alone suit up to fight Thanos, but a new behind-the-scenes charity video reveals that Ant-Man will be coming for the brawl.
During the long Labor Day weekend, actress Zoe Saldana, who plays Gamora in Guardians of the Galaxy and will star in Avengers: Infinity War, shared an Instagram video featuring the cast and crew to encourage donations to help the victims of Hurricane Harvey in Houston. Among those suited up are Saldana (as Gamora), Karen Gillan (as Nebula), Evangeline Lily (as the Wasp), and Paul Rudd, in practically full Ant-Man gear minus his helmet. Also present are directors Joe and Anthony Russo.
Because Evangeline Lily won't appear as the Wasp in Avengers: Infinity War, it's likely Rudd and Lily walked over from the set of Ant-Man and the Wasp, which is currently filming in Pinewood Studios Atlanta alongside Infinity War. But Paul Rudd has previously been seen in set photos, dressed out of costume, alongside Benedict Cumberbatch in full Doctor Strange garb. Saldana's charity video is the first evidence that Ant-Man may suit up in Infinity War, a movie that looks like it's getting bigger by the minute.
Avengers: Infinity War will be released on May 4, 2018.