'Infinity War' IMAX Easter Eggs Aren't What You Think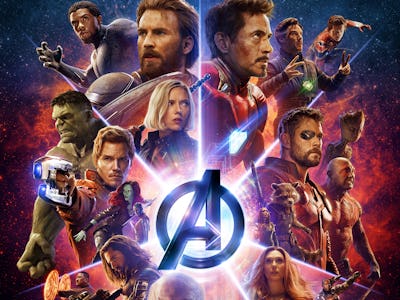 Marvel Entertainment
The biggest Marvel movie in history, Avengers: Infinity War, is fast approaching, and IMAX has a special poster loaded with Easter eggs. Only, it's not Easter eggs to the rest of the Marvel Cinematic Universe. The Easter eggs are four IMAX logos hidden deep in the poster, and you have to find them all. You up for the challenge?
On Thursday, to announce that Marvel's Avengers: Infinity War, releasing in theaters on April 27, will be the first Hollywood blockbuster shot entirely with ALEXA IMAX 65mm cameras, IMAX unveiled a shiny new poster featuring all of the Marvel heroes (except Ant-Man and Hawkeye, who continue to be MIA from the Infinity War hype train). To make the poster extra special, IMAX hid four logos somewhere in the poster, and has encouraged the internet to find them all. And no, the actual IMAX logos at the top and bottom don't count.
In the wake of Ready Player One, Easter egg fever has spread everywhere, even to the Marvel Universe. And unlike piecing together James Halliday's bad dating life, this Easter egg hunt is a lot harder, because we haven't even found one of the four hidden logos. Neither has the rest of the internet, based on a search on Twitter. If you find them all, congrats, consider yourselves the winner of an unofficial No Prize.
Beyond the poster, IMAX announced that IMAX theaters showing Avengers: Infinity War will screen in aspect ratio 1.9:1, which will "expand vertically to show up to 26% more of the image" than standard cinemas. The same IMAX cameras used for Infinity War were also used for the airport battle in 2016's Captain America: Civil War, but Infinity War is the first movie to use the camera for the whole thing.
As stunning as this poster might be, it might be possible that no one will find all four IMAX logos, maybe ever. Remember, no one has found director James Gunn's ultra hidden Easter egg in Guardians of the Galaxy, which came out way back in 2014. There's precedent here.
Avengers: Infinity War will be released in theaters on April 27.