Set Photos Hint at Hawkeye's New Superhero Identity in 'Avengers 4'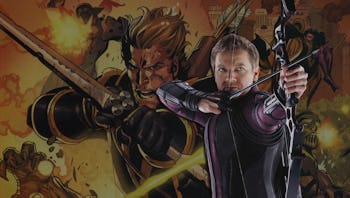 Marvel Entertainment
In the fallout of Captain America: Civil War, Steve Rogers may not be the only one adopting a new identity. In new photos taken at the Atlanta set of the still-untitled Avengers 4, the direct 2019 sequel to Avengers: Infinity War, Jeremy Renner is seen wearing a new black and gold costume reminiscent of Clint Barton's other superhero identity, Ronin.
On Tuesday evening, Marvel fans began sharing photos of Jeremy Renner wearing his new Avengers costume while on his way to the set of Avengers 4 in Fayetteville, Georgia. The pictures were initially shared by a fan account, @weepingangel013, who in turn lifted the photos from the Chinese social media platform Weibo.
While the pictures are really just of Renner walking to another day's work, it's his costume that is generating attention. Although his upper half is covered by a black windbreaker, his black and gold-trimmed pants bear a strong resemblance to the black and gold costume of Ronin, the ninja identity Hawkeye adopted after Marvel's Civil War storyline in 2006.
In the comic books, after Civil War ended, Hawkeye rejoins the New Avengers under the alter ego Ronin, which he borrowed from the deaf Native American superhero Echo. Hawkeye held onto the identity for several years until 2010, when Marvel began the "Heroic Age" branding initiative.
While Hawkeye still used his signature bow and arrow as Ronin, he also made use of dual katanas, which only added to his robust arsenal. Renner isn't seen carrying any katanas, but perhaps they're just waiting for him on set.
Check out the photos below.
Avengers 4 will be released on May 3, 2019.