An 'Avengers 4' Photo of Captain America Could Mean There's Time Travel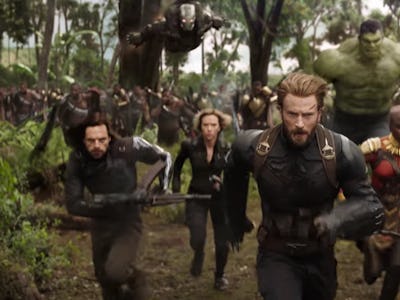 YouTube.com/Marvel Entertainment
There's going to be a lot of science-fiction brouhaha in Avengers: Infinity War. It's what happens when the big villain is a cosmic deity named Thanos goes out looking for a bunch of powerful space rocks called Infinity Stones and collect them like they're Pokemon. Given that the MCU is already getting pretty "out there" for Infinity War, everything could be on the table for the Avengers 4. Time travel isn't out of the question, and it's a plot point that's only more plausible now that Captain America has been spotted looking retro in a new set photo.
On Wednesday, TMZ shared a photo from the Atlanta set of the still-unnamed sequel to Avengers: Infinity War, which is now filming. (Principal photography of Avengers: Infinity War, out this May, wrapped in July.)
In the pictures, a very clean cut Chris Evans in his 2012-era costume is seen standing and joking with Paul Rudd (Scott Lang, Ant-Man) and Robert Downey Jr. (Tony Stark, Iron Man), who is out of costume and oddly in a S.H.I.E.L.D. zip-up hoodie. There's also Mark Ruffalo, who is completely in motion-capture gear, which can only mean Bruce Banner has hulked out in the scene they're filming.
Although these are casual paparazzi photos taken in between takes, they're actually packed with a ton of revelations. The first and most obvious is that Evans is in his Captain America costume from 2012's The Avengers, which he also wore for cameos in 2013's Thor: The Dark World and 2017's Spider-Man: Homecoming. Cap has worn seven separate costumes throughout the franchise so far, but it's his pajama-esque 2012 suit he seems to favor the most.
But why is Captain America in his most patriotic outfit when, in fact, Steve Rogers ditched his stars and stripes at the end of Captain America: Civil War? (He looks even more bleak in the trailer for Infinity War, with his chest star ripped out, the colors faded, and a fully grown depression beard.) While it's easy to think Steve will be reinvigorated and put on his old duds and shave, a more plausible notion is that the Avengers will time travel. (Yes, "time travel" is more plausible in this superhero sci-fi than "change of clothes.")
It's because of Doctor Strange. In Benedict Cumberbatch's debut in the MCU, Stephen Strange used the Time Stone — one of those important Infinity Stones — against Dormammu. As those Infinity Stones are super important to keep away from Thanos, perhaps the Avengers will mess with time and travel to a time before Thanos arrives, which would be around 2012.
That's not the only thing these photos reveal: Tony Stark's S.H.I.E.L.D. hoodie. Is Stark wearing an old hoodie from before S.H.I.E.L.D. was disgraced and disbanded (in 2014's Captain America: The Winter Soldier)? Or is this further evidence of time travel, to when S.H.I.E.L.D. was still under the influence of Hydra? Or, has S.H.I.E.L.D. been reinstated? Real Marvel fans know S.H.I.E.L.D. has been public again for years now, but that's only in the Agents of S.H.I.E.L.D. television series, a side of the MCU historically ignored by the films.
It's still another year until Avengers 4 hits theaters, but a few short months until Infinity War. It's likely fans will finally know more when the first part of the epic Phase 3 finale hits theaters this May.
Avengers: Infinity War will hit theaters on May 4.