'Power Rangers' Star Reveals Release Date of First Valiant Live-Action Show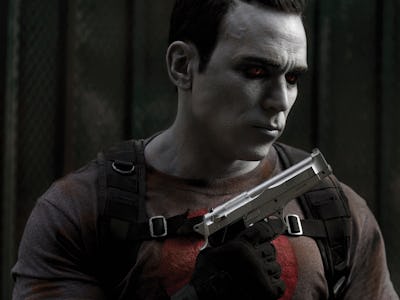 Valiant
Jason David Frank, the former star of TV's Mighty Morphin Power Rangers, is trading Power Morphers for nanites. On Instagram, the actor and martial artist revealed the premiere date of the live-action Ninjak vs. The Valiant Universe web-series, set for April 21.
On Wednesday, Frank shared a photo on Instagram from behind the scenes of the upcoming web-series Ninjak vs. The Valiant Universe, the first live-action production based on characters from comic book publisher Valiant. Frank, who is playing the anti-hero Bloodshot — a character Vin Diesel will play on the big screen — stands alongside other Valiant characters like X-O Manowar (played by Derek Theler), Shadowman (Damion Poitier), and the Eternal Warrior, played by former WWE wrestler and current Lucha Underground star John Hennigan.
Frank's caption is straightforward: "World Premiere of Ninjak vs. the Valiant Universe this April 22nd on comicbook.com."
First announced in 2016, Ninjak vs. The Valiant Universe will focus on Valiant's resident ninja, Ninja (Michael Rowe, Arrow) as he squares off in a gauntlet against other Valiant heroes. Aside from previously confirmed characters, the film will also feature the duo Archer and Armstrong, Livewire, and the always-bickering brothers Quantum and Woody.
The project is a co-production between Valiant — recently acquired by DMG Entertainment — and Bat in the Sun, the geek filmmakers famous for their crossover fantasy series Super Power Beat Down. Separate from the ongoing Sony films in development, which include Harbinger and Bloodshot, the web-series is designed to introduce unfamiliar audiences to Valiant.
"Ninjak vs. The Valiant Universe allows us to take a step into the broader world, and make all [people] fans of Valiant, bring them to the comics," former Valiant CEO Dinesh Shamdasani told Inverse at New York Comic Con in 2016. "And then continue to grow with films, television shows, video games."
Ninjak vs. The Valiant Universe will premiere online on April 21.
UPDATE: An earlier version of this story quoted Jason David Frank's written premiere date as April 22. Bat in the Sun has confirmed to us that the date is actually April 21. This story has been updated to reflect this change.