Who Is Bloodshot? Vin Diesel's Potential New Superhero Role, Explained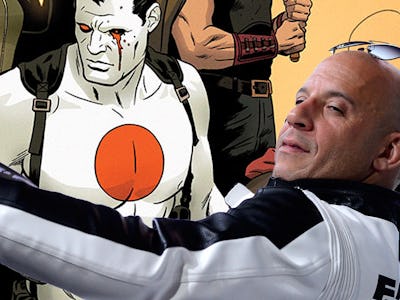 Universal Pictures
A new cinematic superhero universe is on the horizon. Valiant, the comic book publisher packed with original characters like Ninja-K, Faith, and the Eternal Warrior, is about to make the leap to the big screen. And their first cinematic hero might be its most lethal: the ghostly white super soldier, Bloodshot. Vin Diesel is rumored to play him. Here's everything you need to know.
On Sunday, TheWrap reported that Fast & Furious and Guardians of the Galaxy star Vin Diesel is in talks to portray Bloodshot in a live-action movie written by Oscar-nominated screenwriter Eric Heisserer (Arrival) and directed by Dave Wilson, who collaborated with Tim Miller on Deadpool. Separate sources close to Inverse also say Diesel is pretty much a lock for the movie, but there is not yet an official announcement.
Bloodshot, created in 1992 by Don Perlin, Kevin Van Hook, and Bob Layton, was one of Valiant's first hits when the publisher first launched in the late '80s and early '90s. Distinguished by his ghostly white skin and blood red eyes, "Bloodshot" was a U.S. soldier named Ray Garrison who became a test subject of the top secret "Project Rising Spirit." The experiment injected Ray with "nanites" — tiny supercomputers that imbued him with regenerative healing powers and the ability to interface with technology. And that's in addition to Ray's specially trained skills in hand-to-hand combat and firearms, making Bloodshot a very lethal force to reckon with.
Think Captain America crossed with James O'Barr's The Crow, and you've got Bloodshot, one of Valiant's first and most popular characters.
Though Vin Diesel may be playing Bloodshot on the big screen, he won't be the first to play Ray Garrison in live-action. Later this year, Valiant will premiere Ninjak vs. The Valiant Universe, a webseries designed to introduce a new audience to the Valiant Universe. Jason David Frank, best known for his starring role in Mighty Morphin Power Rangers, will be playing Bloodshot in the series.
For now, there's no official confirmation from Diesel himself, but at this point, it seems like it's only a matter of time.