Once a Hot Competitor to Marvel and DC, Valiant Eyes a Second Life
After a meteoric rise  and fall in the '90s, the comic book company is now looking forward.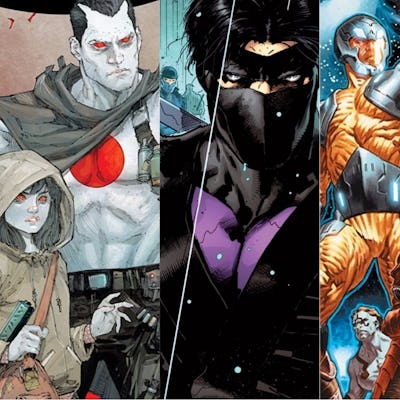 Valiant Entertainment
If you've never heard of Valiant comics before, don't blame yourself. After all, it was only founded in 1988, became white-hot as the first legitimate competition to Marvel and DC in decades, was acquired by the maker of NBA Jam, and then went dark by 2000.
Valiant was started by former Marvel editor Jim Shooter and the late Steven Massarsky, after Shooter was fired from Marvel where the headstrong editor clashed with the publisher's veteran creators. For a few years, Valiant released radical, unique superhero comics that innovated things like prequel/origin issues and limited-edition covers. (Today, you can't walk past a shelf without seeing those same things from Marvel and DC.)
After a 12-year period of inactivity, during which Acclaim declared bankruptcy, Valiant re-emerged in 2012, with new comics that revived its universe. "If Valiant's ambitions are to be the next Marvel, they have a huge amount of competition," Jonah Weiland, then executive producer of Comic Book Resources, told the New York Times in a story on the 2012 relaunch. "Valiant is off to a truly impressive start, but keeping up momentum is extremely difficult."
Five years on, here's how Valiant eyes its future.
X-O Manowar #1
While Valiant had to re-start, it could almost entirely keep the same characters that put it on the map. At the recent New York Comic Con, Valiant showed off Icons, a new line of comics designed to present its most popular characters — X-O Manowar, Ninjak, Quantum and Woody, Bloodshot, and more — in their most definitive form.
The comics are designed to be approachable for more than comics nerds, no matter their comics expertise or familiarity with Valiant, says Warren Simons, the company's Editor-in-Chief.
"We strive for accessibility," Simons tells Inverse. "We're not interested in falling into the continuity of our own universe. We want to tell stories that have universal themes. I want to hand Valiant to someone who does not read comics and have them read it and understand it."
"A Science-Based Universe"
"We're much more of a science-based universe," adds Simons, who says the Valiant Universe is populated by more subdued abilities like telekinesis, telepathy, and nanite technologies over gods and aliens. "We're the world outside your window if it's been tilted about five degrees. We don't have gods. We don't have someone descending with capes ruling over people."
Ninjak vs. the Valiant Universe #1
Icons isn't a reboot, so for Valiant faithful, everything's fine. It's just that for the moment, there is a visibility on Valiant characters who have belonged to the publisher since the '90s. "We're very lucky to have inherited characters created by the most talented people in the industry," he says, specifically naming big talents like Joe Quesada, Dave Lapham, Bob Layton, and Barry Windsor-Smith, who contributed to Valiant in its debuting years.
It was in that same time when, in 1992, Valiant had 22 percent market share in comics. Valiant was very much the third to Marvel and DC's "Big Two."
"Insane if You Think About It"
"That is insane if you think about it," Simons says. More recently, in September 2017, PreviewsWorld reported Valiant had just 0.87 percent share. But as Simons tells Inverse, it's not about percentages. "We're not in this for market share. It's not about licenses," he says. "We're not pumping out 20 books a month for a reason. We're slow, we're precise, we're careful about what we do."
Internally, Simons says Valiant strives for excellence. "It doesn't always work, but that's our target. We're building slowly, looking to ten years than 60 days."
Quantum and Woody #1
The snail's pace has been working, it seems. In 2015, Valiant announced a five-picture deal with Sony to develop several of its characters, like Bloodshot and the ensemble Harbinger, into movies.
Separately, in 2016, Valiant announced its own self-funded web series Ninjak vs. the Valiant Universe, which CEO Dinesh Shamdasani told Inverse last year is an effort to increase Valiant's recognition outside comics. The show is still expected to premiere on YouTube this year, though Valiant has yet to confirm an official date. (A tie-in comic will be released in January 2018.)
In May 2018, when Icons is well into its lifespan and the first volumes are in paperbacks, Valiant will put a spotlight on Harbinger Wars 2, a sequel to the first crossover Valiant published after its 2012 resurrection. "This is gonna be an enormous event as far as the scope," Simons says of Harbinger Wars 2, who adds that "you don't have to buy 14 books to understand what's happening."
"It's more along the lines of a scope of a world war," he adds. "It's not one battle, it's many battles."
A lot of energy is going into Harbinger Wars 2. Mainstay talents like Matt Kindt and Tomas Giorello (Ninja-K) will write and illustrate the first half, while Eric Heisserer (writer of the Oscar-nominated sci-fi film Arrival) and artist Raul Allen will take over in the second.
Much like those "22 percent" days, Valiant is packing its books with today's noteworthy talents. Jody Houser is set to finish off her mini-series Faith and the Future Force, Colbert writer Daniel Kibbelsmith is now on Quantum and Woody!, and Jeff Lemire has begun Bloodshot: Salvation.
And while Valiant will always have its popular characters, the company is always looking for new, diverse heroes to move forward into the future. Newer Valiant characters like Faith, Divinity, and the young misfits of Secret Weapons are just a few examples.
Simons emphasizes one thing to me: Valiant's focus is on its stories.
"We just build stories that are about character. If it's a three-dimensional character, great. The key is to tell a good story. If you do that, everything will fall into place."
The next new books from Valiant, Eternity #1, X-O Manowar #8, and Bloodshot: Salvation #2, will be released on October 25. Ninja-K #1 will be released on November 15. Quantum and Woody will go on sale December 20.
Correction: Valiant began in 1988, was absent for 12 years, and Warren Simons is the Editor-in-Chief, not VP Editor-in-Chief. A previous version of this article included incorrect information. We regret the error.