Iron Man and Optimus Prime Brawl Like Animals in Fan-Made 'Super Power Beat Down'
Iron Man takes out the big guns against the Autobot leader.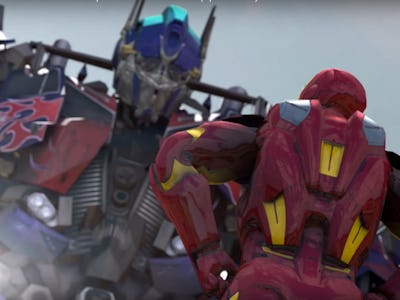 YouTube.com/batinthesun
Giant robots are awesome, and even more so when they fight each other. With that in mind, filmmaking collective Bat in the Sun, the team behind the geek-fueled YouTube series Super Power Beat Down, created the ultimate robot battle: Marvel's Iron Man versus the righteous leader of the Autobots, Optimus Prime, of Transformers fame. While the fanboy-targeted series is usually filmed in live-action, the robot-versus-robot brawl was impressively animated in CGI by digital artist Mightyracoon! despite obvious budgetary restraints.
Unlike several other fantasy battle shows, like Spike's Deadliest Warrior or ScrewAttack's DeathBattle, Super Power Beat Down purports no scientific evidence for its victors. In the fan-made series where superheroes, fantasy, and video game icons fight to the death, winners are decided by online voting. It's like a bloodier, deadlier The Voice, but for nerds.
"Iron Man vs. Optimus Prime" is reliably fun, given its insane premise and the general skill series creator and director Aaron Schoenke displays, though I don't care for his handheld techniques like in "Batman vs. Deadpool." The voice actor for Iron Man sounds nothing like Robert Downey Jr., or even one of the Marvel cartoons that features a cheaper RDJ imitator. But Optimus Prime and J.a.R.V.I.S. sound pretty damn close to Peter Cullen and Paul Bettany.
The insanely close voting means there isn't a very clear winner; this is the closest match since "White Ranger vs. Scorpion" back in 2013. (These guys have been at it for awhile.) Oddly enough, the Marvel superheroes and Hasbro's transforming cars have met before in an official capacity before: In 2007, Marvel and IDW (which owns the Transformers license) published the four issue series New Avengers/Transformers written by Stuart Moore. The Avengers didn't actually fight the Transformers, but they did share the page in all their glory.
Meanwhile, Iron Man will fight his own Marvel brethren, Captain America, in May 6's Captain America: Civil War.