The 25 Most-Read Inverse Culture Stories of 2017
Sex robots, Instagram, and Legal Weed.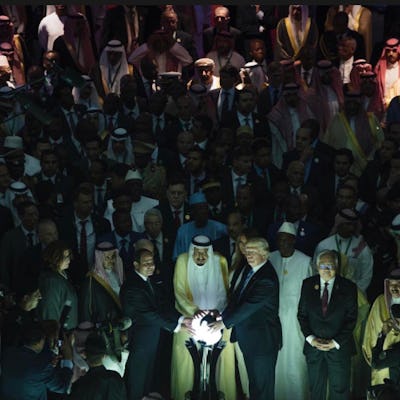 Looking back on 2017 is probably not something most of us are prepared to do just yet. That being said, taking a glance at the year's most-read Culture stories definitely reads like a greatest hits on what captivated our attention in this most crazy of years.
Above the cacophony of Trump gaffs and Twitter feuds, Inverse readers gravitated towards stories that could satisfy their curiosities about this big weird world. From the political (can you legally punch a Nazi?) to the whimsical (what is tentacle porn?), Inverse readers had a lot of questions in 2017. And as technology continues to move at a speed that we can barely keep up with, readers also wanted to know about how apps, AI and the internet at large is affecting our social lives — and our sex lives.
Here are the 25 Culture stories that Inverse readers loved in 2017.
By Emily Gaudette
An adult's guide to the young Vine star who has matured into a weird — and problematic — Youtube celebrity.
By Grace Scott
When it comes to what imagery is too sexual or explicit for Instagram, female bodies seem to get caught in the crossfire of the debate over what's appropriate to post online. These images, many of which appear to be quite benign, were still too controversial for the social media platform.
By Rae Paoletta
Joan Howard spent the '60s and '70s pilfering historical artifacts from the Middle East. Several archaeologists told Rae Paoletta about why Howard's activities were highly unethical, likely illegal, and deeply offensive.
By Paige Leskin
Jordan Peele made a perfectly-meta dig at Donald Trump over Twitter.
By Katie Way
Civil rights lawyer and activist Dan Siegel spoke to Inverse about the legal parameters of self-defense and Nazis.
By Nick Lucchesi
The person responsible for a sign directing teens to books on tricky topics, from abusive relationships to acne, tells us why it's important that kids get the information they're sometimes afraid to ask for.
By Mike Brown
When Google chose to highlight Dutch designer Gerben Steenks in a November doodle, it gave us the perfect excuse to school readers on the fascinating history of the hole punch. It's actually very interesting!
By Sarah Sloat
The November election was a game-changer for marijuana activists, as legislators in favor of legalization were voted in across the board.
By Emily Gaudette
Jennifer Lawrence's Vogue cover caused a stir back in August as hardline conservatives argued that the background use of the Statue of Liberty was a cryptic dig at President Trump's immigration reform. Yes, really.
By Emily Gaudette
Unfortunately, data tends not to lie.
By Cory Scarola
Claiming to be the first of its kind, a sex doll brothel opened up in Spain early in the year. Obviously we decided to write about this, as well as expound upon whether you can get an STI from a sex doll.
After it was revealed that Donald Trump likes his steak disturbingly well done, we decided to look into how the rest of America enjoys their sirloin. It turns out we don't like it on the rare side either.
By Nick Lucchesi
As the Trump presidency dawned upon America back in January of 2017, people were paying close attention to how government websites might change under new hands. It didn't take long for the Spanish language option to disappear from WhiteHouse.gov.
By Emily Gaudette
In honor of Independence Day, Ancestry.com gathered living descendants of the men who signed the Declaration of Independence together. For a commercial. Emily Gaudette explores the complicated — and problematic — history behind the advertisement.
By Gabe Bergado
It didn't end with the dress. Akiyoshi Kitaoka, a professor of psychology at Ritsumeikan University in Japan, created an image that got the internet seeing red.
By Emily Gaudette
When it was announced that the remainder of the JFK files were to be released, conspiracy theorists had a hey day. We theorized on what new information might come to light — and what probably wouldn't.
By Cory Scarola
The trippy coincidence occurred back in April and captured the nation's attention. We investigated.
By Jame Grebey
Well, at least as far as an Irish betting house is concerned. Betting odds favoring Trump's impeachment skyrocketed after Trump dismissed FBI Director James Comey and became embroiled in the investigation into Russian meddling.
By Emily Gaudette
It's actually a pretty loaded question and depends very much on what you personally define as virginity. We parsed through the data.
By Emily Gaudette
Reddit is the go-to place to talk about and share just pretty much anything, including porn. Emily Guadette details some of the best subreddits out there.
By Emily Gaudette
A deep dive (no pun intended) into the slimy, sexy world of tentacle porn, including its origin and history. Inspired by an "accidental" tweet from Vanity Fair's Kurt Eichenwald of tentacle porn, we felt the internet could use a primer on the genre as Eichenwald's tweet subsequently went viral.
By Monica Hunter-Hart
Back in the summer it looked as if President Trump's bombastic twitter habits were about to land him in the legal hot seat. It didn't exactly happen, but as we enter 2018 with the President still glued to his feed, anything is possible.
By Katie Way
In 2017, we had a lot of questions about the app that seemed to go viral overnight, Saraha. Deriving its name from the Arabic word sarahah, which translates to "honesty" or "candor," the app lets its brave users send and receive messages anonymously, for better or for worse.
By Gabe Bergado
Oh brother. Throughout a year of outrage, the trailer for Dear White People prompted white supremacists to decry Netflix's "anti-white agenda." The reason? The trailer showcases the show's protagonist, black college student Sam White, stating that white students shouldn't dress up in blackface on Halloween.
By Cory Scarola
Inverse readers seem to be really curious about porn, because this story was read more than any other in 2017. So where in the world do women watch the most porn? And why do Americans want to watch sexy videos that are Overwatch-themed? We don't know… but Pornhub has dug up the data, along with so much more about our carnal interests.