Sex Doll Brothel Opens Up in Barcelona
One step closer to real-life 'Westworld.'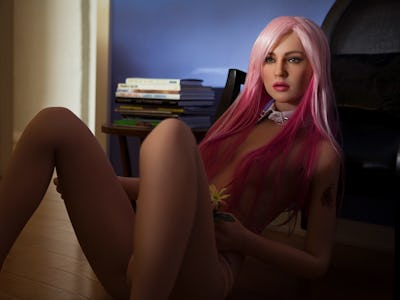 Facebook
Anyone who watched HBO's Westworld and came away from it with the desire to have sex with a robot is now in luck. A brothel full of sex dolls has opened up in Barcelona, Spain.
Lumi Dolls offers four models that anyone can reserve for a set amount of time. Thanks to new technology, Lumi Dolls brags that its dolls are among the most realistic on the market — and they cost around €120 per hour, which is about $127. The brothel offers other services as well, including overnight stays and options for couples, but those price quotes require a consultation. Reservations are taken online.
Each of the models come complete with a sort of character page on the Lumi Dolls website, which houses a description of the doll's anatomy, creative inspiration, and what to look forward to in the doll's room.
One of the dolls, named Aki, comes with the question, "Have you ever imagined moments of intimacy with any of those anime characters that you like?" Complete with vibrant blue hair, a large chest, and what looks to be a video game headset, Aki appears to be in line with the popular conception of an anime lover's dream.
There are sure to be questions about Lumi Dolls venture — what to expect, what it's going to be like, not to mention the ethics — and, thankfully, the website does include a FAQ page to explain just how this is all going to go down.
For those who worry about there being a lack of ambiance (it is just a sack of silicone, after all), Lumi Dolls says in each room they include a large television that visitors can play movies on. People can also dim the lights, with Lumi Dolls hoping that everyone has a unique experience.
Another pressing question that many will likely have is the possibility of getting an STI from the sex dolls. Sex toys can spread these diseases depending on the material they're made out of; viruses can more easily hide inside porous materials. Nonporous toys have less risk, with a wash after use being sufficient to prevent contracting anything nasty.
Lumi Dolls says the dolls are properly disinfected with antibacterial soaps before and after each client rendezvous. Even so, the brothel still recommends using condoms, which they provide free of charge.
Noticeably absent from the Lumi Dolls cast are any male doll models. And it's not like the technology doesn't exist. It would seem that the company believes straight men are set to be the most lucrative market, at least for now.
Lumi Doll's products might not have artificial intelligence yet, but there are various sex doll companies working on implementing A.I. into their toys. Regardless, opening up a sex doll brothel is a step toward developing these sorts of creations and services.
For those who are interested in going, Lumi Dolls wants to assure you that their services "allow you to fulfill your fantasies without any limits." Where have we heard that before?
Oh, right. That's where.