An Adult's Guide to Why the Internet Turned on Logan Paul and Jake Paul
Logan Paul's video of Japan's 'suicide forest' is the latest example of them being the worst.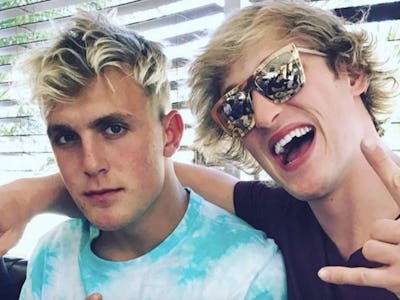 Youtube
Although it's generally been Jake Paul who's suffered the most criticism for his annoying and problematic viral content, on Tuesday his older brother Logan Paul faced massive backlash for uploading a video that depicted a dead body hanging in Japan's Aokigahara forest.
The 15-minute video of Paul's trip to Japan's "suicide forest" received over a million views before he took it down. Criticism of the video was swift and brutal, as viewers took issue with Paul's insensitive and voyeuristic depiction of suicide.
If you don't know, the Paul brothers, who are both in their early 20s, represent a group of online celebrities our society hasn't fully integrated yet: those who become rapidly famous on YouTube or Vine, through comedic content, but haven't yet proven themselves on mainstream platforms. When their online platform of choice goes under, these personalities are often left without a tether, and that's when things get hairy. Logan and Jake Paul, who began posting prank videos and sketches on Vine in 2013, racked up 3.1 million and 5.3 million followers, respectively, by the time Vine was shut down in 2017. Those followers have begun to turn on them, especially following this latest episode.
The Pauls' names and faces are immediately recognizable to a certain young demographic, but like other Vine stars, they've had trouble chasing their early momentum outside the world of 6-second gags. Logan Paul, the older brother, has performed a couple bit parts on TV series and acted out a strange business partnership with Dwayne Johnson via YouTube videos. Until Tuesday he had escaped from controversy, for the most part, posting vlogs and introducing a bro-friendly California clothing line. His younger brother, Jake, however, has become so widely detested that mainstream media has recognized his controversial status.
Jake has been accused of racism multiple times, as he often mocks minor characters in his prank videos based on their ethnicity. His ex-girlfriend, Alissa Violet, another YouTube star, accused him publicly of emotional abuse and manipulation, to which he responded with a video of his own, titled "My Response to the Hate." In the video, he admits that he has "brought down" and "cyberbullied" others, and assures his viewers that he's learned his lesson, though it allegedly took him 20+ years to figure out what most of us learn as toddlers: people don't like to be fucked with.
In August of 2017, several news outlets reported that Jake's constant stunts and parties, which he organizes for his YouTube channel, were beginning to bother his neighbors in West Hollywood. New York magazine joked that he may be "the worst neighbor on the planet," and his music video, "It's Everyday Bro," went viral among angry people, who disliked the video (pressing YouTube's "thumbs down" function) so many times that it set a record.
Surrounded by other young white people, an acne-sprinkled Jake uses AAVE while "rapping" about his Lamborghini, his 5 million YouTube followers, his new Rolex, and his job on the Disney channel. Needless to say, the video sparked his downfall when millions of people who hadn't watched him on Vine suddenly realized who he was.
When a local news anchor interviewed Jake about the damage he had inflicted on his neighborhood, he delivered a cringe-worthy series of phrases from the internet, encouraging fans to "dab on them haters," then dabbing, and then screaming, "What are those?" which is a joke phrase made famous on Instagram in 2015. Jake came off as annoying, but what's worse was how hopelessly out of touch he was with the real world. As a result, Disney fired him mid-season from the sitcom Bizaardvark on July 24.
Jake has uploaded countless videos to his channel since "It's Everyday Bro," sometimes apologizing to his followers for all the "hate" he's been receiving, and sometimes pranking helpless strangers in his neighborhood. He posted a 15-minute explanation of his firing from the Disney Channel, focusing instead on how his former castmates were visibly upset by the news. In the video, he does not apologize for what he was actually being accused of: being a careless teenager and assuming that his internet fame gives him the freedom to ignore others' needs.
Popular creators from Vine and YouTube are similar to reality TV stars in some ways, in that they're famous for no real reason, though they do usually write and produce their own content. Like Disney Channel stars, they also suffer from their audience being much younger than they are, and are often accused of being harmful examples to youth when they try to mature their image. Although Jake Paul is technically an adult man, his frantic videos are all aimed at a demographic that consumes free online content (giving Jake all his subscribers), but kids ages 8-15 aren't really a part of the American economy yet. In order to continue to make money off children, the Logan brothers are forced to churn out quick videos and try to sell t-shirts with their names on them in lieu of landing spots as actors on TV networks. It's a lose-lose situation, and no one is losing more spectacularly at the moment than Jake and Logan Paul.
Update, January 2, 2018: This article has been updated by Inverse staff to reflect the latest news: "Teen Charged With Manslaughter After Failed YouTube Stunt."