Teen Charged With Manslaughter After Failed YouTube Stunt
The couple often made stunt videos, hoping to get famous.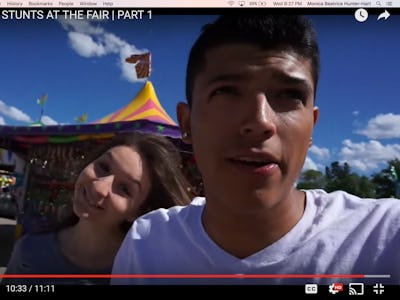 YouTube user: La MonaLisa
A Minnesota teen was charged with second-degree manslaughter on Wednesday after shooting her boyfriend in the chest with a .50 caliber Desert Eagle pistol, allegedly as part of a failed YouTube stunt.
19-year-old Monalisa Perez claims that her partner, 22-year-old Pedro Ruiz, encouraged her to shoot an encyclopedia that he held up to his chest, convinced that the book would stop a bullet. Perez called 911 when Ruiz collapsed; medics pronounced him dead at the scene.
Two cameras documented the entire incident: The couple had staged it for their YouTube series "La MonaLisa," which features vlogs depicting "the real life of a young couple who happen to be teen parents." Perez is 25 weeks pregnant, but she and Ruiz already had one child together: a 3-year-old girl who was present for his death.
Many of the couple's videos involved stunts. Ruiz's aunt, Lisa Primeau, described her nephew as a "daredevil" to the Star Tribune, saying that he put "a dangerous twist on everything he did," such as "jumping into the swimming pool from the top of the house, no hesitation."
One of Ruiz's family members wrote on Facebook that he had tried shooting a gun through a stack of encyclopedias in an earlier experiment. When the bullet didn't pass through a single book, he dreamed up the deadly stunt and suggested it to Perez.
Perez allegedly needed convincing, as described in an order of detention. "Monalisa Perez reported that eventually Pedro Ruiz III convinced her to shoot the book" after "awhile," it states. She tweeted about the event right before it happened on Monday.
Perez was released from jail on a $7,000 bail and will appear back in court on July 5 with a public defender. Her charges could result in a maximum of 10 years in prison.
In regards to her punishment, Primeau spoke of the young woman with empathy. "It's a tragic incident. What she did … she has to live with that," she told the Star Tribune. "It's the worst punishment she can get. She is pregnant with their second kid. It's just heartbreaking."