Marijuana Legalization 2017: States and Cities Where Weed Won This November
Pro-marijuana candidates and reforms succeeded across the country.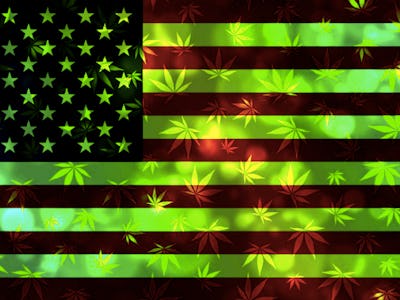 Wikipedia Commons/Pixabay
Marijuana remains illegal at a federal level, is classified as a Schedule I drug, and is still seen as a "life-wrecking" substance by the country's attorney general. But cannabis advocates made enormous strides in elections across the country this week. By Wednesday, it became clear that, just like last year, a scattering of marijuana-related reforms occurred throughout the United States, including the election of candidates who want to institute those reforms.
Although marijuana advocates say there's still a long road to normalization and legalization, there seems to be increasing support for what cool dads everywhere say deserves to be treated the same way as alcohol and cigarettes, rather than like a debilitating drug such as heroin. Here are the states and cities that are leaning towards a green future:
Changes on the State Level
Virginia Elected Ralph Northam as Governor
Previously, the state's lieutenant governor, Ralph Northam was elected as the state's governor on Wednesday with 54 percent of the vote. The Army veteran and pediatrician endorses decriminalizing marijuana and made the issue one of the centerpieces of his campaign. He sees the criminalization of marijuana as a law that "disproportionately hurts people of color" and also believes that the potential health benefits of marijuana are another reason that the substance should be decriminalized.
New Jersey Elects Phil Murphy as Governor
Democrat Phil Murphy bested Kim Guadagno on Tuesday night to become the governor-elect of New Jersey. This is a big step towards legalizing marijuana in the state — one of Murphy's campaign promises was making recreational marijuana legal for those 21 years and older.
"The criminalization of marijuana has only served to clog our courts and cloud people's futures, so we will legalize marijuana," Murphy said in his victory speech. "And while there are financial benefits, this is overwhelmingly about doing what is right and just."
Changes by City
Rocky Ford, Colorado
The rural city of Rocky Ford, famous for growing melons, voted to allow the retail sale of marijuana — medical marijuana sales were already allowed. Retail marijuana advocates won with 53 percent of the vote. While recreational marijuana is legal on the state level in Colorado, it's also a "home rule" state, which means local municipalities have the power to adjust legislation to what's wanted in the district. Many of Colorado's rural towns have not voted for legal recreational marijuana use.
Detroit, Michigan
Voters in Detroit passed two proposals on Tuesday that will help make it easier for marijuana dispensaries to open and operate. Dispensaries in Detroit can now open within 500 feet of another dispensary, open within 500 feet of a religious institution, eliminate a previous ordinance that gave the city's Board of Zoning Appeals the authority to review applications, and eliminate the requirement that a city hold a public hearing before a dispensary is opened.
Athens, Ohio
While recreational use of marijuana is still illegal in Ohio, the passing of The Athens Cannabis Ordinance reduces the penalties for marijuana misdemeanor crimes. The ordinance, designed to "redirect law-enforcement resources towards more serious and violent crimes," completely eliminates the fines that were previously in place — $150 for possession of up to 100 grams of marijuana to $250 for 100 to 200 grams.
Philadelphia, Pennsylvania
Pennsylvania's largest city voted for Lawrence Krasner to be its newest district attorney, a progressive candidate who wants to end mass incarceration. One way to do that, Krasner believes, is to change the way the city handles non-violent crimes, like marijuana possession. His election, which he won with 75 percent of the vote, is seen by marijuana advocates as a positive step towards major cities reforming the way possession of marijuana is interpreted as a crime.
"We need to be much more victim-centered and survivor-centered when we think of these crimes," Krasner said in an interview with The Intercept, "and not equate a bar fight with mass murder, or something that is incredibly intrusive, like identity theft, with other nonviolent crimes that really don't affect anyone, like the possession of marijuana."
If you liked this article, check out this video on the inaccurate representation of weed in movies and TV shows.