Poor Young White Men Are the New Demographic Abusing Heroin
Previously, opioid abuse was prominent among middle-aged poor white men.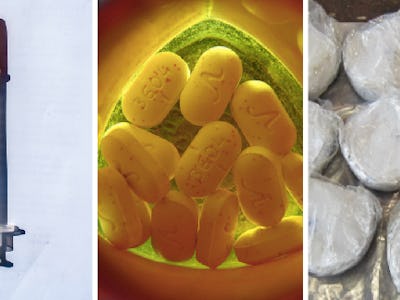 Flickr
Opioid abuse has traditionally been marked as a problem affecting poor, middle-aged white America. But a study released Wednesday in JAMA Psychiatry suggests that heroin abuse has infiltrated younger white men and is inflicting a devastating toll.
Researchers from Columbia University's Mailman School of Public Health have found that American heroin use has spiked fivefold in the past decade, with the greatest prevalence in use among white people aged 18 to 44. While heroin use has been a rising trend in America, this study notes a specific jump in use among young white men, particularly among those who are poor and with lower levels of education.
In an analysis of data of 43,000 people who participated in the National Epidemiologic Survey on Alcohol and Related Conditions, researchers found approximately 36 percent of white heroin users had abused prescription opioids before trying heroin in 2001 and 20012. However, the number of heroin users who first used opioids in a non-medical way had almost doubled to 53 percent in 2012 to 2013.
"Because the effects of heroin seem so similar to widely available prescription opioids, heroin use appears to have become more socially acceptable among suburban and rural whites," co-author Dr. Siliva Martins said in a statement.
The authors add that use among men may have risen because "males may have been more affected by economic stressors than females, e.g. low manufacturing employment rates, leading to greater increases in male heroin use." That was reflected in a remarkable gap between men and women reporting heroin use disorder, which grew by .72 percent in the decade studied compared to rates for women, which grew at a notably slower rate of .25 percent.
The link between heroin use and unemployment, poverty, and a lack of education has also been cited by other medical researchers as the catalyst for the number of "despair deaths" in the United States. The mortality rate among middle-aged white people has risen steadily from 1999 to 2014; this newest research suggests that younger white people are facing an increased risk of death as well.
The release of this study coincides with plans from the Trump administration to launch a commission on the nation's opioid epidemic on Wednesday. President Donald Trump made a campaign promise to help those afflicted by opioids and heroin; there is a strong overlap between counties that voted for Trump and those most affected by opioid and heroin deaths.
According to an early draft of the commission proposal obtained by STAT, the purpose of the commission is to identify what federal funding streams can go into supporting long-term services. But while the new commission plans to review ways to prevent opioid addiction, the authors behind the JAMA research say that the more pressing task at hand is to expand educational programs on the dangers of heroin use and to increase access to treatment and intervention efforts to vulnerable communities.