CDC: More Americans Are Overdosing on Drugs Than Ever
The CDC's annual report on drug overdoses cites a 14 percent jump in 2014 from 2013.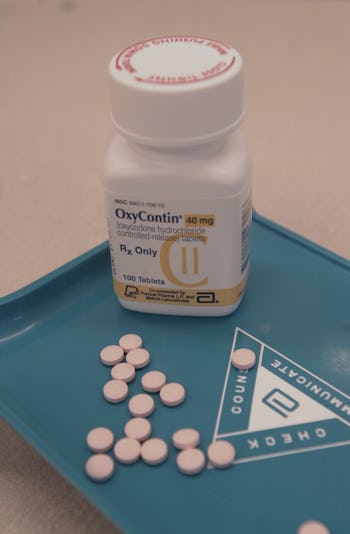 Getty
The death toll from natural and synthetic opioids — drugs like morphine, oxycodone, and hydrocodone — jumped in 2014 by more than 800 people from the previous year, according to the Centers for Disease Control's Morbidity and Mortality Weekly Report, published on Friday.
Those deaths are just a drop in the bucket when compared to the total of 47,055 drug overdose deaths in 2014. That's the entire population of the tiny country of the Faroe Islands. Or the Dallas-Forth Worth suburb of Bedford City, Texas. Or how many people can fit into Safeco Field, where the Seattle Mariners play baseball.
Overall, more people died from drug overdoses in 2014 than during any previous year on record, and overdose deaths in 2014 jumped by 14 percent over 2013.
Which states have growing problems with overdoses? Maine, Massachusetts, Pennsylvania, Maryland, Virginia, Ohio, Indiana, Illinois, Michigan, North Dakota, New Mexico, Alabama, and Georgia all saw "statistically significant drug overdose death rates" from 2013 to 2014.
Of those states, the biggest jumps were in North Dakota with 125 percent increase in fatal overdoses, New Hampshire with 73 percent, and Maine with 27 percent. (Here's how your state finished 2014.)
The states with the most total overdoses in 2014 were West Virginia, New Mexico, New Hampshire, Kentucky, and Ohio.
Who's overdosing more this year than last year? The CDC says it's nearly everyone: "Deaths are up in both men and women, in non-Hispanic whites and blacks, and in adults of nearly all ages"
Opioid overdoses (including heroin) now make up the largest percentage of overdose deaths in 2014 — 61 percent of all deaths.
"Many of these overdoses are believed to involve illicitly-made fentanyl, a short-acting opioid," the CDC reports about the synthetic opioid deaths. Florida, Maryland, Maine, Ohio, and Philadelphia reported spikes in illicit fentanyl seizures. Because fentanyl is combined with heroin or straight-up sold as fentanyl, the CDC theorizes that "illicit fentanyl-associated deaths might represent an emerging and troubling feature of the rise in illicit opioid overdoses that has been driven by heroin."
The CDC points to a dramatic rise in pain reliever prescriptions; more than four times as many prescriptions are written for them today as in 1999. From 2000 to 2014 nearly 500,000 Americans died from drug overdoses, an increase of 137 percent.