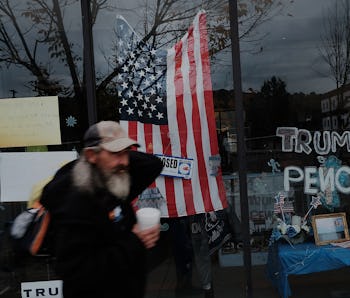 Science
Trump's Election Map Also Maps "Despair Deaths"
The opioid crisis is rooted in rural America.
Getty Images / Spencer Platt
In March, commentators began to notice a strong correlation between where now President-Elect Donald Trump was successfully polling and the places where white Americans were increasingly dying.
These "despair deaths" are tied to the opioid crisis plaguing the United States, and on Tuesday night, they proved to be one of the best predictors for how people were actually casting their votes in the Presidential election. If you overlay the map of where mortality rates for white people are rising and where Trump won votes, you'll notice they align.
From 1999 to 2014, the mortality rate for white people between 45 and 50 years old who only had a high school education increased by 134 deaths per 100,0000. With death rates that have risen 50 percent since 1990, rural white women in their late 40s are experiencing the highest spike in death rates.
Heavy drinking, smoking, and opioid addiction — which often results in overdoses — have contributed to these deaths. These factors are believed to have caused rural Americans to distrust the government, fueling fears that a "white genocide" is happening in the United States. "Despair, depression, and disillusionment can often result in drug and alcohol abuse," La Salle University sociologist Charles Gallagher told Inverse in March, "and that is what's playing out."
Here's an analysis of changes in death rates of white women by the Washington Post:
And here's a break down of the 2016 presidential election votes by county and state from The New York Times:
Polling and statistics can't confirm that Americans actually afflicted by opioid addictions, among them an estimated 1.9 million prescription medication addicts and 586,000 heroin users, voted overwhelmingly for Trump. But the votes and data reveal that it is at least those who share a community with them who did. The presence of "despair deaths" was likely felt in states like West Virginia, Mississippi, Oklahoma, Tennessee, Kentucky, Alabama, and Arkansas where, reports The Atlantic, "the gap between actual and expected mortality in 2014 exceeded 200 deaths per 100,000 people."
And it is not only rural states that went red that have a link between opioid abuse and a Republican vote — between 2002 and 2012, drug overdose mortality rates doubled in every New England county. A breakdown of votes in New England states like New Hampshire and Maine reveal how neck-in-neck the vote between Trump and Democratic Candidate Hillary Clinton really was in these afflicted regions.
Both Trump and Clinton discussed opioid addiction on the campaign trail, presenting wildly different solutions to the problem. Clinton proposed a $10 billion initiative to fight abuse and addiction. Trump argued that building a wall with Mexico would stop the flow of opioid drugs.
Trump's plan to build a wall drew fire from politicians and members of the medical community. "Building a wall is not a comprehensive plan to address our nation's opioid crisis," Democratic Senator Ed Markey of Massachusetts said in October. "Instead of building a wall, we need to tear down the wall of stigma and partisanship that has blocked real funding for responding to this opioid crisis."
Caleb Alexander, MD of John Hopkins Bloomberg School of Public Heath argued similarly in November. "I think the FDA has additional authorities under federal law that they have failed to exercise, that could improve the risk-benefit balance of prescription opioids for millions of Americans," Alexander said.
These solutions, however, were not voted into confidence by the American people. It remains to be seen how the president-elect addresses the epidemic endangering the rural population who helped get him into office.