Peter Thiel is Betting That Magic Mushrooms Can Treat Depression
COMPASS Pathways is launching a massive trial.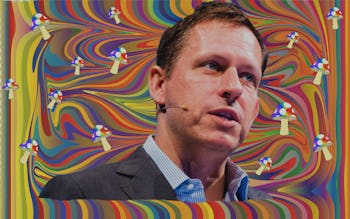 Pixabay/Flickr
Peter Thiel, creator of PayPal and destroyer of Gawker, is generally not known for projects designed to help mankind. He's more of a young-blood-taking, elite shadow organization-joining, Donald Trump-supporting sort of guy. However, last Wednesday it was announced that a healthcare company that Thiel invests in has plans to kickstart a program that can do a lot of good: help patients treat depression with psilocybin.
The company is called COMPASS Pathways and according to Crunchbase, the UK-based business's seed funding amount is around $5 million. The company announced it is partnering with Worldwide Clinical Trials, a clinical development and pharmaceutical company, to conduct "a major program of late-stage clinical trials for psilocybin therapy for treatment-resistant depression."
Psilocybin, the psychedelic compound in magic mushrooms, has previously been demonstrated in scientific studies to ease depression. A 2017 study published in Scientific Reports found that magic mushrooms reduced blood flow in the brain's amygdala, which plays a role in the development of depression, essentially giving it a reboot. Each of the twenty patients that participated in the trial claimed that their mood improved and their stress levels decreased after they dosed with psilocybin. Other research projects have also found psilocybin can help ease addiction and anxiety.
These new clinical trials will begin "in the first quarter" of 2018 and will include clinical sites in the Czech Republic, Finland, Germany, the Netherlands, Norway, Portugal, Spain, and the United Kingdom. The goal, announced COMPASS, is to improve the lives of patients suffering from treatment-resistant depression, which affects more than 300 million people around the world.
"We need a new approach to tackling mental health," George Goldsmith, executive chairman of COMPASS and its and co-founder, explained in the statement. "Current treatments for depression work for many people but there is still a significant unmet need for a large number of patients living with this very challenging condition."
Founded in 2015, on COMPASS's Advisory Board is famed researcher Robin Carhart-Harris, Ph.D., of Imperial College London, who is one of the world's leading scientists on how psychedelics affect and change the brain. It is also backed by billionaire ex-hedge fund manager Michael Novogratz and film producer Sam Engelbardt.
While Thiel hasn't commented publicly about his involvement with this psilocybin research, it's not necessarily surprising that he is involved. The billionaire has a history of getting involved with health: He founded the nonprofit Breakout Labs with the intention of funding projects designed to extend the human lifespan.
Thiel sees death, per an interview with The Washington Post as something he would "prefer to fight" and evolution as something we as a society and "transcend." Depression may be something we can fight or transcend as well — with a little help from shrooms.