So, There's a Live-Action 'Star Wars' Television Show on the Way
The show will be available on Disney's standalone streaming service.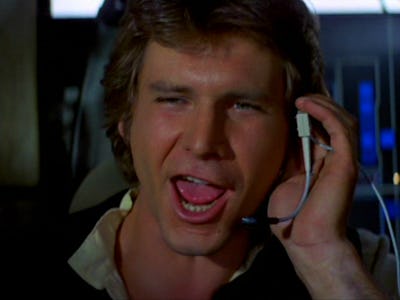 Lucasfilm
Hidden in the weeds of Lucasfilm's official announcement that Star Wars: The Last Jedi director Rian Johnson will be developing a new standalone Star Wars trilogy was news of a live-action Star Wars television show.
Lucasfilm president Kathleen Kennedy recently stressed just how busy her team has been developing the future of the Star Wars universe. It turns out she wasn't exaggerating.
As reported by Variety on Thursday, Disney chairman-CEO Bob Iger first announced the slew of new projects during the company's quarterly earnings call.
While absolutely nothing is known about Johnson's new trilogy or the live-action television series, which would be the first of its kind in the Star Wars universe, that hasn't stopped fans from speculating.
The wildly popular Knights of the Old Republic series — a collection of video games and subsequent comic books — seems to be a favorite for either the live-action series or Johnson's new trilogy. But Lucasfilm has seemed determined to head in new directions recently. Johnson's trilogy will reportedly "introduce new characters from a corner of the galaxy that Star Wars lore has never before explored" and be totally unrelated to the "episodic Skywalker saga."
Meanwhile, Disney's Star Wars Land, an upcoming extension to Disney's theme parks in Orlando, Florida, and Anaheim, California, will "transport guests to a never-before-seen planet, a remote trading port and one of the last stops before Wild Space, where Star Wars characters and their stories come to life." Is it possible that both the new trilogy and the television series will coincide with this "never-before-seen" planet?
What about a television show based on Star Wars 1313, a canceled Star Wars video game about Boba Fett's young adulthood in the gritty depths of Coruscant? Or maybe a Kamino-based look into the lives of the Clone Troopers. How about a Jar-Jar Binks show?
It's also worth noting that Lucasfilm still has not officially confirmed the Obi-Wan Kenobi standalone film that everyone got so riled up about back in August. Maybe the television show will actually be an Obi-Wan story.
The only thing we do know about the as-yet-unnamed live-action Star Wars television show is that it's a part of Disney's upcoming streaming service. In 2019, Disney will pull all of its titles from Netflix and other streaming services to launch its own streaming platform, which will include this live-action Star Wars series as well as "four to five original movies a year."
The unnamed live-action Star Wars show does not yet have a premiere date, but it's safe to assume it will arrive sometime in 2019 with Disney's streaming service.
If you liked this article, check out this video about the two huge plot twists revealed in The Last Jedi.