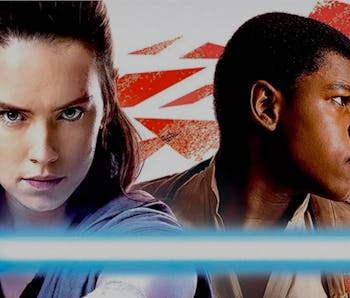 Entertainment
Rey, Finn, Poe, and BB-8 Will All Appear Past 'Star Wars: Episode IX'
Lucasfilm
Our new heroes Rey, Finn, Poe, and even little BB-8 will make it out of this latest saga alive — maybe. Lucasfilm seems to have big plans for its latest trilogy's newbies in the future of the Star Wars universe.
Lucasfilm President Kathleen Kennedy made an appearance on Wednesday's episode of The Star Wars Show to talk about the state of the Lucasfilm empire and its impending future. Lucasfilm Story Group, the gang of professional nerds in charge of future stories and making sure Star Wars canon stays on track, is working overtime to figure out what's next.
"We're sitting down now, we're talking about the next 10 years of Star Wars stories and we're looking at, narratively, where that might go," Kennedy said. "Future stories beyond Episode IX with these new characters, Rey, Poe, Finn, BB-8. But we're also looking at working with people that are interested in coming into the Star Wars world and taking us to places we haven't been yet. And that's exciting too because it's a vast galaxy far, far away. So, the possibilities are endless."
Now, that doesn't necessarily mean Rey (Daisy Ridley), Finn (John Boyega), and Poe (Oscar Isaac) will absolutely live past Episode IX. All of them could still die. Rey's connection to the Force means she could appear in future Star Wars projects as a Force ghost. And Lucasfilm's love of standalone anthology stories — similar to Rogue One: A Star Wars Story and Solo: A Star Wars Story — means that, really, anyone can "come back to life" and get their own backstory.
Maybe, one of these days, we'll get to see Finn's life as a Stormtrooper in training or Poe's early days as a rookie pilot in the Resistance. Maybe the latest trilogy won't actually solve the mystery of who Rey's parents are, and a future anthology film will explore that.
The possibilities are endless in the Star Wars universe.
The Last Jedi hits theaters on December 15, in case you somehow forgot.