Here's All the Porn Russians Watch While Masturbating
Pornhub Insights focuses on Russia this week, and man... that's a lot of Overwatch porn.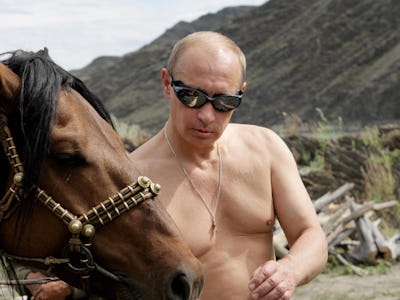 The Huffington Post
Russia keeps a lot of its culture hidden from the global eye, but it's never been a mystery what excites their nation. There are too many photos online of Vladimir Putin cavorting around shirtless for anyone to assume that Russians are prudes.
Thanks to Pornhub Insights, the data blog hosted by Pornhub, we now have an accurate picture of what Russians search for when they want to get cosmonaughty and KGBeat-off.
First of all, Russians are far more likely than the rest of the world to watch porn on desktop computers (most of us are jerking off to our smartphones). Second, Russians are most likely to watch porn between 10 and 11pm, and Sunday evening is their horniest night of the week.
As for what they watch, Russians primarily watch home-grown pornography, searching most often for the term "Russian". In fact, the only time "Russian" porn was bumped from the Kremlin's top spot was in 2016, when horny Russians developed a temporary fixation with Overwatch.
Russians are also super into watching anal sex, especially in the eastern most part of the nation. The western part of Russia searches primarily for porn starring Korean actors.
When we divide the porn search data by gender, users who self-identify as women are 120 percent more likely to search for "gangbangs" (in which one woman has intercourse with more than two men at once). Russian women are also into "double penetration", which occurs in "gangbang porn". Russian men aren't really interested in either of those scenarios, and they much prefer watching MILFs ("mom I'd like to fuck") or "mature" performers (who are also MILFs most of the time).
There are a couple conclusions one could come to regarding this gendered data: some porn critics have pointed out that anxious masculinity can lead a man to perceive even the presence of another man in a sexual situation as a threat. For a male viewer whose self-esteem is low, or whose sexual experience isn't diverse, seeing several men aroused while standing close together in a room can look homo-erotic. Since Russia's culture is horrifically dangerous for queer people, and even queer-leaning imagery is illegal, it's possible that Russian men just aren't comfortable with gangbangs, threesomes, or double penetration because of the surplus of penises. On the other hand, Russian men aren't searching, as most of the world does, for teens, opting instead for mothers or "mature" performers. That fact is a little more complex, and harder to generalize about.
It may just be that Putin and his followers feel they have been naughty boys, and that they need their mothers to spank them. Who knows?