The 7 Funniest Suggestions From the Pornhub Community 
On Pornhub's feedback forum, the porn streaming service takes cues from its customers.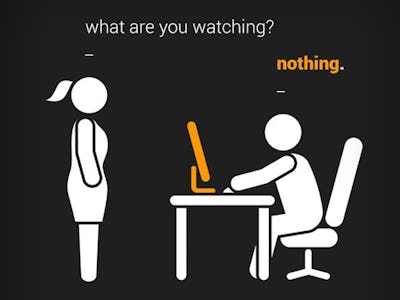 Pornhub, AdWeek
When you think about Pornhub, odds are the first thing that comes to mind is…people having sex. Obviously. But maybe your first thought should be excellent customer service instead.
The Pornhub Feedback and Suggestions forum is just a click away from any page on the site, under the "Support and Help" column at the bottom of the screen. You can find it here (it's visually safe for work, but the content of the feedback definitely is not), or you can stroll down really fast on any given page on Pornhub's site (also not really a safe for work option).
On the forum, users are invited to offer suggestions from improving user experience, whether that means creating new video categories or changing the way verified Pornhub account holders interact with one another. There's a surprisingly complex voting system in which users can put up to three votes towards any given query, elevating its ranking in a Reddit-esque fashion, with certain posts deemed "hot ideas" or "top." If a post receives enough attention, product manager Brett Hall responds, often in the affirmative.
The result is a series of sometimes stream-of-consciousness, sometimes political, and occasionally genuinely constructive comments that span more that 1150 pages of material at the time of this reporting. We plucked seven of the most pertinent, insightful and bizarre posts for your browsing pleasure, but feel free to go deeper.
1.
Godspeed, Mikołaj.
2.
This suggestion does a great job of showing off the writer's personal voice. Not only does this individual want fewer foot fetish videos populating the lesbian category, they want you to know exactly how exasperating they find this issue. This person isn't angry, Pornhub, they're just disappointed.
3.
It is clear that, with this suggestion, Sean believes that he has struck pornographic pay dirt. He's spitting user demographics and talking multi-platform integration here, people! The main issue with this suggestion is that while the word "aesthetic" has taken on certain connotations in the context of websites like Tumblr, its meaning is still too nebulous. Which aesthetic, Sean? Pale grunge? Vapor wave? Soft goth?
4.
You know what, Gifted? Even though I don't think that kind of harsh language is entirely necessarily, the sentiment is right on the nose. Pornhub is for one thing only: porn. And there is no reason to have to deal with another internet popularity contest at the same time!
5.
This is one of several iterations of this question on the feedback forum which, surprisingly, Pornhub has not yet moved to answer. Many of the comments on this post were rife with words like "snowflake" and "triggered."
But people visited Pornhub 23 billion times last year and streamed almost 92 billion videos in the process. Porn is an undeniable presence in the lives of millions of people around the world. And something as simple as relabeling a category from an offensive pejorative to the preferred terminology could make a big difference in altering the overall perception of a heavily marginalized population.
6.
Multiple pages to see a really big ass? Unacceptable, Pornhub. Seriously. This suggestion has actually been implemented, so luckily users are no longer forced to sift through regular butts in order to find the big ass for which they are so ardently searching.
7.
This suggestion, along with its 300 votes, speaks for itself. Close your eyes and let the word paint a thousand pictures.