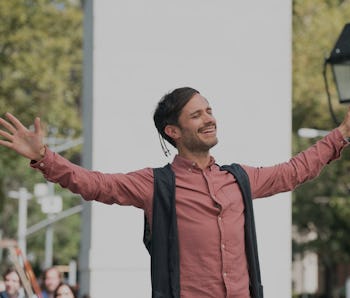 Entertainment
The 7 Best Original Shows on Amazon Prime Video, Ranked
Amazon's original content is starting to shape up
Even for those that don't even use Amazon Prime's free two-day shipping, the $99 annual fee is becoming a more and more worth the price to access Amazon Video's growing library of TV shows and movies. That library's main attraction is a few of the best original series streaming series of the last few years, and with Prime coming to Apple TV later this year, there's no better time to assess and rank that growing list of hits.
Original dramatic comedies make up the bulk of Amazon's best exclusive streaming TV shows, with sub-genres that include alternate history dystopia, a long-form period piece biopic, and even a police procedural. Just about everything they do is adapted from some source material, be it a novel, play, book series, or real-world events. But that doesn't stop much of this "original" content from being the most bingeable streams around.
Here are the seven best series that you can only get on Amazon Video:
7. Man in the High Castle
Loosely based on Philip K. Dick's novel of the same name, Man in the High Castle goes very off-book in imagining a dystopian alternate history in which the Nazis won World War II. It's 1962 and the U.S. is subdivided into the Greater Nazi Reich and the Japanese Pacific States. After characters encounter propaganda revealing an alternate reality to their own, the series dabbles in the realm of sci-fi with the presentation of alternate dimensions.
The Man in the High Castle proved immensely popular with watchers in its first season, and the third is due out sometime in 2017.
6. Bosch
The titular Hieronymus "Harry" Bosch is a renegade homicide detective in the Hollywood Division of the LAPD. He was honorably discharged from the military sometime after serving in Vietnam and since has developed a sort of weathered charm. Bosch is stern, serious, and brooding — almost too close to an overused stereotype in police procedurals. But the show's gripping pace makes its tired cliches more than palatable.
The show adapts its stories from Michael Connelly's best-selling crime drama novels, and considering the author has penned 20 novels featuring the character, the show could conceivably go on for a long time.
5. Fleabag
Fleabag is a hilariously irreverent sitcom that's supported entirely by the charm and comedic ability of its lead, Phoebe Waller-Bridge. Its use of black humor and asides to the audience offer up tragic, poignant insight into her life as a single woman navigating life in London. It's anything but wholesome, which is more than half the fun.
Fleabag is adapted from Waller-Bridge's own one-woman play of the same name, and its first six-episode season was released in summer of 2016. It's been confirmed for the second season, but if rumors of Waller-Bridge becoming the new lead on Doctor Who are true, it may have a delayed release.
4. Z: The Beginning of Everything
Fans of the Jazz Age will watch Z: The Beginning of Everything with glee, as it's a biopic of detailing the relationship of two of its biggest figures: Zelda Sayre and The Great Gatsby author F. Scott Fitzgerald. The show is remarkable as a period piece portraying life in the early 20th century (Zelda is dubbed by her husband "the first American Flapper"), but its greatest strength is in shifting its focus away from the more-famous F. Scott Fitzgerald and instead focusing on the accurate life of Zelda.
Christina Ricci as Zelda is positively superb in her portrayal of an oppressed but impeccably strong woman. What ultimately emerges in the show is a startling exposé on the insecurities of Scott and his philandering ways, as well as how much of his relationship with Zelda was infused into novels like The Great Gatsby. To some extent, Scott "borrowed" Zelda's own thoughts and writings for his novels, and he frequently pressured his wife against pursuing her own writing career.
3. Transparent
Perhaps Amazon's flagship series, Transparent showcases the superb talents of Jeffrey Tambor as an aging father who finally admits to herself and her children that she's a woman named Maura and begins to transition. While Tambor is an Emmy-winner for the role, Transparent is as much about Maura's journey as it is the shortcomings of her three children, each of whom is uniquely charming and funny, but occasionally self-destructive.
The mood in each of the show's three seasons oscillates between cynical and optimistic, with its characters sometimes trying earnestly to be good people but at other times descending into self-destruction. Transparent deals with a wide cast in a measured, effective approach that balances comedy and drama to great effect with everything that makes a messy, big family like the Pfeffermans interesting. What emerges is an uplifting message on the importance of radical self-acceptance and open-mindedness that you can't really find anywhere else.
A fourth season is currently in development.
2. Mozart in the Jungle
This music-minded sitcom about the inner-workings of the New York Symphony is a sensory delight bordering on the pornographic; what Chef's Table is to the "food porn" phenomenon, Mozart in the Jungle delivers on the auditory level. Its star, Gael García Bernal, delivers an immeasurable amount of brilliance and charm as Rodrigo De Souza, a young, handsome prodigy of a conductor based on Gustavo Dudamel.
The entry point for viewers is the only slightly younger Hailey Rutledge, an ambitious and talented oboist who dreams of playing for the New York Symphony. Just as Rodrigo takes over as the new maestro of the Symphony, Hailey finds herself with an opportunity to get her foot in the door, and the series immediately takes off through various areas of New York City and far beyond.
Each of the currently available three seasons is uniquely nuanced, and the series was renewed earlier this year for a fourth go-round. It's only fitting considering it took home two Golden Globes in 2016.
1. Catastrophe
Amazon Originals are often irreverent and brutally honest, with humanistic optimism buried underneath all that cynicism; nowhere is that more brazenly on display than in Catastrophe. When a casual sexual fling during a London business trip turns into an unexpected pregnancy for Rob and Sharon, the foul-mouthed, seemingly mismatched pair sort of shrug and decide to "make a go of it."
Catastrophe offers a brutal examination of what marriage can look like in the real world. Much of the series's comedy comes from the crass things that Rob and Sharon say both about other people and to each other, but in between moments of fiery rage are tender moments of understanding.
Each of the show's three seasons dives deeper and deeper into their relationship, saying something new each time about the difficulties of being in a modern relationship.