'Transparent' Season 4 Shows that Amazon Originals are Staying Afloat
Ahead of the premiere of its third season, the comedic drama has been confirmed for another 2017 installment.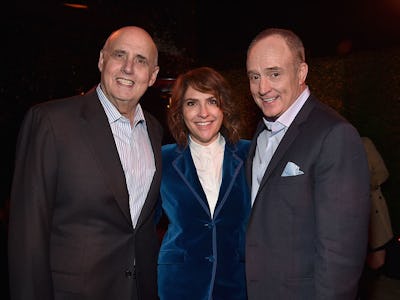 Alberto E. Rodriguez/Getty Images
With the "Consider an Amazon show" slogan peppered across the company's social media and subway ads, you may be concerned that Amazon's original programming initiative isn't doing as well it hoped, a few years in. After all, it doesn't have to report statistics like normal TV channels; it could be truly crumbling, for all we know.
Today, however, Amazon Studios confirmed a new undertaking: the fourth season of their popular comedy-drama Transparent. The half-hour series stars Jeffrey Tambor as trans-woman Maura, and chronicles her complex family life. All the leads — Tambor, Judith Lights, Gaby Hoffman, Amy Landecker, and Jay Duplass — will return, according to a press release, re-joined by showrunner/creator Jill Soloway and Andrea Sperling, the show's executive producer.
The confirmation of Season 4 comes even before the premiere of the show's third season, due later this year.
In a way, this makes sense. Transparent has been successful by whatever yardstick we measure the success of streaming shows. Generally critically beloved, it is the only Amazon series to reach four seasons so far. It shows that Amazon is doubling down on its clear areas of strength, while allowing artists a lot of freedom.
Amazon exec. Joe Lewis seemed to echo these impressions in his press statement announcing the renewal:
"As the quality of television rises to new heights, Transparent continues to stand out for its depth of character, compassionate storytelling and its infinite creative risk-taking… "We're grateful that customers have responded so enthusiastically to the Pfefferman family and we're excited to bring them another chapter of their story."
Transparent Season 4 is set to premiere on Prime Video sometime in 2017.