'Monster Hunter XX' is Coming to the Nintendo Switch This Year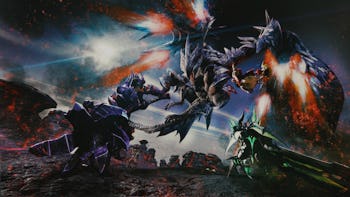 monsterhunter.wikia.com
Last Thursday, Capcom announced Monster Hunter XX, the latest title in a long lineup of Monster Hunter games, will be heading to the Nintendo Switch later this year in Japan. The new release will be an adaptation of the Nintendo 3DS version of Monster Hunter XX, which was released in Japan in March, but the Switch version will have dozens of new features, like internet cross-play with the 3DS version and 1080p resolution support.
During the Monster Hunter Championship in late May, Capcom announced the official release date for Monster Hunter XX for August 25 in Japan. As expected, there are no details regarding the game's release date in the West, although we'll likely see a formal announcement from Nintendo with E3 around the corner.
See Also: The 8 Biggest Video Games Coming to E3 2017
If the previous release cycles for Monster Hunter games are anything to go by, it's likely we won't see Monster Hunter XX on the Nintendo Switch outside of Japan until the spring of 2018 — especially considering that the previous entry in the franchise, Monster Hunter Generations (also known as Monster Hunter X in Japan), didn't release in the West until eight months after hitting store shelves in Japan. But, with Nintendo working to push the Switch as much as it possibly can around the world, that hopefully won't be the case for Monster Hunter XX.
Unlike most of Nintendo's other systems, the Nintendo Switch isn't a region locked console, which means you'll be able to pick up a Japanese copy of Monster Hunter XX and play it stateside. That's assuming you're up to speed on your Japanese, or you're familiar enough with the game to navigate the menus.
Once released in the U.S., you will be able to transfer your Monster Hunter Generations save data to the Switch version of Monster Hunter XX. This will allow you to get a head start on your weapons collection, equipment crafting, and rank progression.
No matter what, the good news is that Monster Hunter will be heading to the Nintendo Switch, which adds another one of Nintendo's most popular and well-respected franchises to the company's newest platform. Now, we just have to sit and wait for more news regarding Monster Hunter XX's Western release at E3.
You Might Also Like: