'Monster Hunter' Movie Production Will Begin This Fall
Filmmaker Paul W.S. Anderson is embarking on another video game adaptation.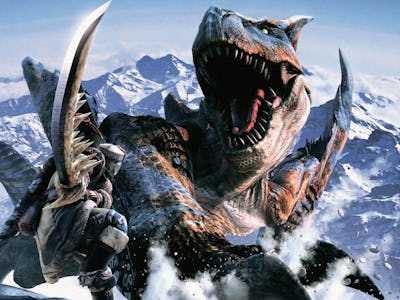 Capcom
Now that his 15-year run at the helm of the Resident Evil movie franchise is complete, filmmaker Paul W.S. Anderson is moving on to … another potential movie franchise based on a Capcom video game.
The 52-year-old British filmmaker is re-teaming with the Osaka-based game developer to adapt the hit game series Monster Hunter for the big screen, it was revealed in March, and Anderson is already deep into the prep work for the project.
"I'm writing it at the moment," he tells Inverse, "and we hope to go into production later this year and shoot early next year."
The RPG series is about villagers who hunt down monsters in the countryside. Anderson says he's not sure where the film version will shoot yet, but his producing partner, Jeremy Bolt, tells Inverse that he'd like to revisit the location where the final Resident Evil movie was shot.
"I'd like to get back to South Africa," Bolt says. "I really enjoyed it down there."
Adapting Monster Hunter will make for a daunting task; the series, which began with a game released for the Playstation 2 in 2004, has sold over 38 million copies worldwide across all platforms. That's even more than Resident Evil had sold before Anderson made his first movie in the series, which hit theaters in 2002. There's a lot to get right in the adaptation, but it also offers the potential for a franchise with a massive, ready-made fan base.
Not that Bolt is planning too far ahead.
"You don't want to get too caught up, don't want to count your chickens before they've hatched," he says. "At this point, it would just be a hope. All our energy is on making the first film as good as possible.