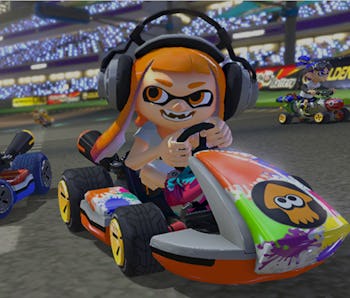 Gaming
Here's the Best Games Coming to the Nintendo Switch
A busy year just got even busier. 
Ars Technica
The big Nintendo Switch announcement has come and gone, leaving in its wake plenty of excitement over the library that will be built up around the new console. While the launch lineup is pretty slim, Nintendo has shown off over 30 games that will eventually be coming to the console over the next year or so. And some of those are looking mighty fine.
Some are remakes, some are third-party titles that will be launching on other consoles as well, and then we have a handful of Switch exclusive games. While we saw some games we were expecting to see, like The Legend of Zelda: Breath of the Wild, Nintendo also surprised us with a bunch of fresh announcements, too. Expect to see some sequels and spin-offs for your favorite series, along with some brand new faces; there's certainly plenty to look forward to in the coming months. Let's take a look at the most promising games you can expect from the Switch.
ARMS
ARMS is a new brawler with a silly twist — each character has long, stretchy arms, meaning you can throw punches up close or from a distance. The game features a wide array of fighters to choose from, each with their own special abilities and techniques. While it looks to be a good beat 'em up for beginners, from the demos we saw, there also looks to be a good amount of strategy and depth to the game, too. ARMS is slated for release later in the spring.
1-2-Switch is one of the Nintendo Switch launch titles scheduled for March 3, offering what looks to be a variety of quirky party games. Challenge your pals to a western duel, participate in what looks to be some classic Wii tennis, or, for whatever reason, engage a partner in a cow milking race. Yep.
It looks to be the Switch's answer to Wii Sports in a way. It'll feature some familiar games like tennis, but rather than staring at a screen this time around, you'll put all of your focus on player number two to create a more personal, if hilariously awkward, experience.
Splatoon 2
Nintendo's runaway hit Splatoon is getting a sequel, and it looks just as delightfully messy as its predecessor. In the original, teams faced off against each other, shooting blobs of ink at one another in an attempt to make sure that the map is covered in that team's color.
Splatoon 2 features new specials, including two moves called "Curling Bomb" and "Splash Sound" that were shown at today's Nintendo Treehouse event in New York City. By the looks of the announcement trailer, it looks as though Nintendo might even be trying to push the game as an esport.  
The Legend of Zelda: Breath of the Wild
Naturally Breath of the Wild makes this list. Another game hitting at launch, the newest entry in the Legend of Zelda series, introduces a gorgeous open world, and new crafting and survival mechanics, while also blending in the old-school features that makes the series such a success.
In the latest trailer, we get a look at Link doing some classic Legend of Zelda puzzling, but you'll also be able to manipulate objects in the open world to, say, distract goblins clustered around a campfire, or send boulders rolling down onto your enemies. The game's looking as beautiful as ever, too, as we see Link adventuring through various environments — snowy fields, ruins standing in a flowery meadow, and desert canyons.
Super Mario Odyssey
Watching Mario run through crowds of people in a realistic looking city (humorously named "New Donk City") is kind of unsettling, but that's just one of the environments players will be able to explore when Super Mario Odyssey launches in the 2017 holiday season. We saw Mario exploring a vast open world, from forests full of towering stands of trees to a candy colored world full of geometric fruit.
There's a lot of classic Mario platforming sprinkled throughout, too. And lest we forget, Mario's hat is now animate, meaning it can fly around and float in space, serving as an emergency platform should Mario need to jump across a huge gap.
Mario Kart 8 Deluxe
It might not be an entirely new Mario Kart game, but the Deluxe version launching on Nintendo Switch brings plenty of new content to the table. We'll be getting new vehicles and characters, including the cast of Splatoon. King Boo, Dry Bones, and Bowser Jr. will be coming along for the ride as well.
Nintendo is also addressing some concerns players had with the original version, in which Battle Mode was played on a regular race track, which didn't fully embrace this form of vehicular combat. Mario Kart 8 Deluxe adds all new courses, specifically designed for Battle Mode. They're also making the game a bit more accessible for newcomers with the implementation of "Smart Steering." Players can opt for a small antenna on the back of their kart that prevents them from falling off the track.
On top of all of that, all of the DLC from the Wii U version comes bundled in Mario Kart 8 Deluxe. The game is set to release on April 28.