New 'No More Heroes' Is Already Nintendo Switch's Best Title
Nintendo needs a touchdown, and it may come from Suda51.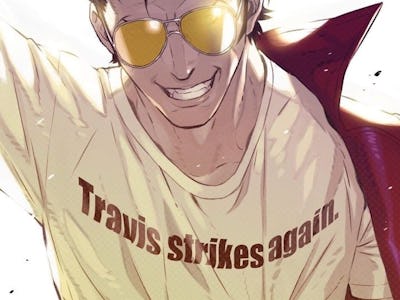 Twitter.com/suda_51
There's a lot to like about the Nintendo Switch, the new console coming this March from Nintendo. But among the slate of announced games that isn't titled The Legend of Zelda, only one is destined to be the console's killer app: the long-awaited next entry in Suda51's No More Heroes series.
Taking the stage during Nintendo's press conference for the Switch on January 12, game auteur Suda51 revealed the return of No More Heroes and anti-hero Travis Touchdown. Its release date and how the game will pick up where 2010's No More Heroes: Desperate Struggle left off isn't clear, but "story" was never the strongest sell of No More Heroes anyway.
A stylish hack-and-slash pastiche of Star Wars, anime, punk music, lucha libre, and grindhouse cinema, No More Heroes stars Travis Touchdown, a sleazy anti-hero who gets roped into becoming an assassin after buying a lightsaber on eBay. To be crowned the world's best killer — and win a night with the beautiful Sylvia Christel — Travis scratches out the top ten killers ranked by the United Assassins Association, one by one.
One of the only M-rated series for the Nintendo Wii, the mega violent No More Heroes flipped family-friendly motion controls with mechanics like lurid "jerking" (to charge the sword's battery) and brutal Mexican wrestling. The vastly improved motion control demonstrated by the Switch, detailed during the conference, is looking like an exciting canvas for No More Heroes developers Grasshopper Manufacture to seriously go loco with.
The franchise remains a cult classic video game for its brutal, offensive identity on an otherwise wholesome Nintendo platform. The series' vulgar motion controls felt like a middle finger to the notion of family entertainment, and the unique world has inspired countless amounts of fan art, cosplay, and even live burlesque. The first game was released in 2008 to rave reviews, while the 2010 sequel received a more mixed response. Still, it's been too long since the world has seen Travis Touchdown, and he's overdue for another round.
Nintendo is set to release the Nintendo Switch console for $299.99 on March 3.