Here's the Nintendo Switch Release Date and Price
Also, the software won't be region-locked.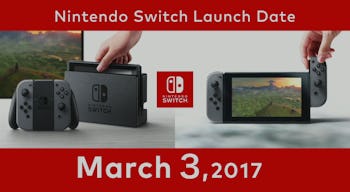 Nintendo released a bunch of new information about its next, hotly anticipated gaming console, the Switch, during a presentation on Friday in Japan. The most essential reveal was the system's release date and price. According to Nintendo, Switch will be released on March 3, 2017 and will retail for $299.99 in the United States.
Switch will come out on the same day in the U.S., Canada, Japan, Hong Kong, and "major European countries." Pricing was only specified for the U.S. and in Japan, where it will cost 29,980 yen, which is slightly cheaper. Nintendo says that, unlike previous gaming consoles, Switch won't be region-locked, meaning that games from Japan, for instance, will work on a U.S. Switch.
Other details about the Switch, whose main selling point is its ability to switch from a home gaming console to a portable one, were revealed during the presentation as well. While on the go, Switch has between 2.5 and 6 hours of battery life, depending on the game.
The motion technology within the joy-con controllers sounds pretty advanced as well. Nintendo says the two controllers, which also come in red and blue, can determine distances differentiate shapes.
There's still a lot more to learn about the Nintendo Switch. More information will be revealed throughout the event.