Everything We Know About Nintendo Switch After Tokyo Debut
Nintendo wowed the gaming world with its new console.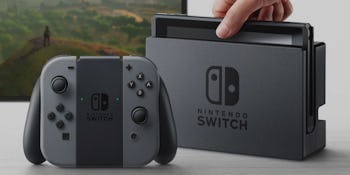 Nintendo
It's finally here. The big Nintendo Switch reveal we've all been waiting for finally arrived on Friday as the company took the wraps off its newest console's finer details at a press conference in Japan. The March 3 release is just around the corner, and here's all you need to know about the company's next big console.
Console
Nintendo are offering two Switch bundles, both at $299.99. One comes with grey Joy-Cons, while the other comes with a blue Joy-Con on the left and a red Joy-Con on the right. Both include the console, dock, wrist straps, a grip, an HDMI cable, and an AC adaptor. Depending on your needs, you might want to throw in some accessories on top.
When undocked, the console's battery lasts for around six hours, but this can vary. For example, The Legend of Zelda: Breath of the Wild will run the battery down in around half that time.
Charging up is done via USB-C, the up-and-coming universal standard found on many high-end Android phones. The system connects to other Switch consoles and the internet through either 802.11ac Wi-fi or Ethernet via an adaptor through the dock.
The system has 32GB of internal memory, upgradeable via a microSDXC slot. After a 16-year absence, game cartridges have made a triumphant return to Nintendo's home console: The Switch has no optical disc drive. Best of all, the games aren't region-locked.
The machine itself has a 6.2-inch multitouch screen, with a resolution of 1280x720. The screen is capacitative, much like a smartphone screen, and when docked the machine is capable of outputting 1080p high definition pictures to the TV thanks to its custom Nvidia Tegra chip. A flip-out dock on the back and speakers on the base allow for a small-screen experience that mimics the laid-back home playstyle.
Joy-Cons
In many ways, the Joy-Cons are the heart of the Switch experience. The controllers clip onto either side of the display, providing a standard set of buttons you expect to find on most consoles. This allows for both on-the-move gaming and docked home play.
On the left side, there's L and ZL shoulder buttons, a left thumbstick above a set of directional buttons (separated out), a minus button and a capture button for taking screenshots (and eventually video). On the right side there's R and ZR shoulder buttons, A, B, X and Y buttons above a right thumbstick, a plus button and a Home button.
On the underside of the right controller there's an IR motion camera for determining objects' shape, motion and distance. Nintendo is hoping this new sensor will foster new forms of control. The sensor can tell the difference between a hand making the shape of a rock, paper or scissors, and can also tell how far away the hand is. It gives an idea of the sort of new games developers could come up with (albeit probably something a bit more advanced than rock-paper-scissors).
The right Joy-Con also contains NFC reader and writer functionality. An example given was for reading and writing Amiibo data.
Each controller has an accelerometer and gyroscope for motion-controlled gameplay. When sliding out, new SL and SR buttons reveal themselves on the inside clip, and each Joy-Con can be held on its side for multiplayer gaming. A wrist strap attaches by sliding over the SL and SR buttons, available in three different colors. A set of four lights in between the shoulder buttons show which player the controller is paired as, similar to the Wii remote.
Each controller also contains HD rumble, which the company claims is precise enough to feel ice cubes in a cup. The player can feel exactly how many ice cubes are in a virtual cup, as well as the sensation of liquid pouring into the glass.
The Joy-Cons are fairly small, at 102mm high, 35.9mm wide, and 28.4mm deep. The left one weighs 49.3 grams, while the right weighs 52.2 grams. Each one contains its own lithium-ion battery.
The official Nintendo specs say that up to eight controllers are supported, meaning there's potential for a whole range of intense gaming. The system also supports local Switch console connections, with up to eight systems playing together in multiplayer.
Accessories
Extra Joy-Cons are available for $79.99 for a pair or $49.99 for just a left or right Joy-Con. While the pair bundles come in grey, neon blue, neon red or a left Joy-Con in red paired with a right Joy-Con in blue, the single packs only seem to come in grey.
The Joy-Con charging grip, priced at $29.99, is billed as a convenient way of charging the Joy-Cons while playing. Meanwhile, a Joy-Con wheel emulates the older Wii steering wheel to improve immersion in racing games. At $14.99 for two, it's a rather affordable way to improve racing games.
The Pro controller, priced at $69.99, is marketed as a way to "take your game sessions up a notch," and resembles a more traditional Xbox controller. It includes the same buttons as the traditional Joy-Con, including motion controls, HD rumble, and built-in Amiibo functionality.
Nintendo is also selling a dock set at $89.99. The box includes the dock itself, an AC adaptor and an HDMI cable. All of these things come with the Switch itself, but Nintendo suggest it could be used for a second TV in the house, so all you need to do is lift the Switch out of the first dock and take it with you. Depending on how cumbersome it is to move the dock by hand, it might be a hard sell convincing people to spend nearly $100 for the sake of convenience.
Online
Nintendo is making a big change this time, switching to a paid service similar to Xbox Live and PlayStation Network. Pricing is unannounced, but the service is expected to launch in fall 2017. Before then, a free trial period will be available from launch using a Nintendo Account. Wii U and 3DS games will remain free-to-play: This change is only for the Switch.
This isn't going to be the same service as before, though. The Switch service will feature an online lobby, voice chat, and appointment management. A new smartphone app, due to launch in the summer, will enable voice chat on the go.
Nintendo will also offer a monthly download scheme, where players will get to enjoy one NES or SNES game, updated for online play. The game will be free for a month. Nintendo will also offer exclusive deals to subscribers for the store.
For those that don't want to pay the fee, Nintendo will also offer a free tier. This will offer access to the eShop downloadable game store, the ability to register and manage friends, access to the Nintendo Switch parental controls app, and the ability to share screenshots to social media. All of this functionality will also be available to Switch subscribers.
Games
Nintendo has 33 Switch titles listed as coming soon on its online store (it says there's 35, but three of them are different editions of the same Zelda game). Here is the list of games currently announced for the Nintendo Switch:
1,2, Switch (March 3)
Arcade Archives (TBD)
Arms (Spring)
Disgaea 5 Complete (TBD)
Dragon Ball XENOVERSE 2 (Working Title) (TBD)
Farming Simulator (TBD)
Fast RMX (TBD)
FIFA (TBD)
Fire Emblem Warriors (TBD)
Has Been Heroes (March)
I am Setsuna (March)
Just Dance 2017 (March)
LEGO® CITY Undercover (Spring)
Mario Kart 8 Deluxe (April 28)
Minecraft: Story Mode - The Complete Adventure (TBD)
Minecraft: Switch Edition (TBD)
NBA 2K18 (September)
Project Sonic 2017 (2017)
Puyo Puyo Tetris (TBD)
Rayman® Legends Definitive Edition (TBD)
RIME (TBD)
Shin Megami Tensei: Brand New Title (TBD)
SKYLANDERS® IMAGINATORS (TBD)
Snipperclips - Cut it out, together! (March)
Sonic Mania (Spring)
Splatoon 2 (Summer)
Steep (TBD)
Super Bomberman R (March)
Super Mario Odyssey (Holiday 2017)
Syberia 3 (TBD)
The Elder Scrolls V: Skyrim® (Fall)
The Legend of Zelda: Breath of the Wild (March 3)
The Legend of Zelda: Breath of the Wild - Master Edition (March 3)
The Legend of Zelda: Breath of the Wild - Special Edition (March 3)
Ultra Street Fighter II: The Final Challengers (TBD)