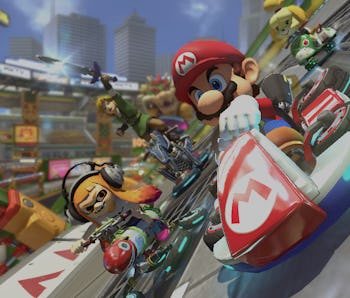 Gaming
'Mario Kart 8 Deluxe' Adds 'Bumper Bowling' on Nintendo Switch
Complete accessibility is what the latest racing installment is all about. 
Nintendo
Earlier this morning Nintendo held a presentation from Japan revealing loads of new information about its new gaming console, the Nintendo Switch. Set to release this March and priced at $299, the system features brand new titles like The Legend of Zelda: Breath of the Wild and plenty of returning favorites with a fresh look. During the Nintendo Treehouse stream we got to dive into a few, including the newly announced Mario Kart 8 Deluxe, including new characters, updated gameplay modes, and a new "bumper bowling" feature that makes it impossible for novice racers to drive off of the tracks.
Only available on the Switch, Mario Kart 8 Deluxe features a collection of every character and track (including the DLC) from the Wii U version of the game running at 60FPS in 1080p when the Switch is docked, and 60FPS 720p while being used on the go. You'll also get the chance to play with three new vehicles, some returning items like the Boo and the Feather, and race against your friends with additional characters only available in Mario Kart 8 Deluxe including King Boo, Dry Bones, Bowser Jr, and characters from Splatoon.
The deluxe version of the game also brings back separate courses designed especially for Mario Kart's "Battle Mode." The original 8 was criticized for only allowing gamers to play Balloon Battle and Bob-omb Blast on normal racecourses, which weren't designed with arena-style combat in mind. Deluxe remedies this.
New and returning players nervous about navigating the track can take advantage of the new Smart Steering feature in Mario Kart 8 Deluxe as well, which is essentially a small antenna on the back of your kart that makes it impossible to fall of the track when racing. The goal here is to make driving and staying on the track easy for notice players and kids, even if you go up to 200cc, the fastest race speed, in-game. Combined with the revamped Battle mode, it looks like Nintendo is working to make Mario Kart 8 Deluxe one of the most accessible titles on the Switch with a complete collection of content for players to enjoy.
Unfortunately, Mario Kart 8 Deluxe won't be available for the Switch immediately — it's being released on April 28 following the consoles initial launch in March.