NYC Got Schwifty With the 'Rick and Morty' Rickmobile
Everybody was squanchin' about town.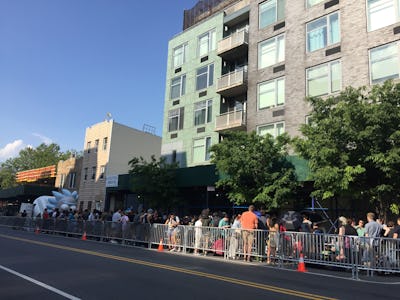 Corey Plante
Rick Sanchez may really want some of that sweet Mulan Szechuan McNugget sauce, but all any fans of Rick and Morty want these days (aside from Season 3, of course) is to spot the Rick and Morty Rickmobile as it tours the continental United States.
On Thursday, May 18, fans in New York City were treated to just that as the mythical vehicle stopped at Vinnie's Pizzeria in the Williamsburg neighborhood of Brooklyn — and then again to sell merchandise at Barcade in the same neighborhood. The previous stop had been a week earlier in Atlanta.
The Vinnie's stop was a photo opportunity with various pizza specials tied in while the Rickmobile itself sat parked on the corner; the shop wasn't open for business. Fans came out one after another to snap photos with the giant face of Rick Sanchez and sample unique pizzas, like "1998 McDonald's Mulan Szechuan Dipping Sauce Pizza," which had fried chicken with Szechuan sauce and select veggies and cheeses. It was good enough to make it the focus of your series arc.
It was not the first time Vinnie's has dabbled in Rick and Morty-themed pizzas, and we doubt it will be the last.
Perhaps the most creative thing that Vinnie's had to offer was this Plumbus Pizza, which is about as appetizing as it is disturbing.
Barcade's Rickmobile stop presented something entirely different. The most diehard fans lined up as early as 9:30 a.m. to wait for the 6:00 p.m. opening. By the end of their wait, as lines swelled to well over 500 people, the people at the front of the line began to look like haggard, two-day-old Mr. Meeseekses. Despite a two-item max for all purchases, it proved a worthy wait for a lot of Rick and Morty superfans.
Beyond the giant face grimacing at everyone, the festivities also included a Mr. Meeseeks Airdancer.
Unfortunately, the Meeseeks Airdancer was not on sale, but there were a lot of items available for purchase.
For the lucky several hundred that were able to get served, they were treated to the privilege of purchasing items like the "Gwendolyn Pool Float" or the "Poopy Butthole Towel."
Everyone else had to drown their sorrows inside the Barcade where "weird beers" and "a crazy cocktail just for the occasion" were promised.
The specialty drink, a Rick Potion #9, included vodka, Ecto Cooler, and a splash of crème de violette. The drink was vaguely reminiscent of the incredibly strong mixed drink some people call "Jungle Juice," and was a popular item at the bar all night long. As such, the Rick Potion #9 looked like something Rick would certainly pour into his flask. At least it didn't Cronenberg our universe.
New Yorkers who missed it this time around can catch the Rickmobile when it returns on October 5 for New York Comic Con.
To see when the Rickmobile is coming to a town near you, check out the "Don't Even Trip Road Trip" schedule on the official site. Be sure to pick what you want ahead of time with this list, or check out their visual menu.
You Might Also Like:
What the Title of Rick and Morty Season 3 Episode 2 Tells Us
Watch This Fan-Made Family Guy and Rick and Morty Crossover
8 Rick and Morty Fan Theories You Should Know
When Is Rick and Morty Coming to Netflix?
How to Watch the Rick and Morty Season 3 Premiere If You Missed It