How Did Fox News Founder Roger Ailes Die? Sources Say a Fall
TMZ reports he fell and hit his head, and didn't recover.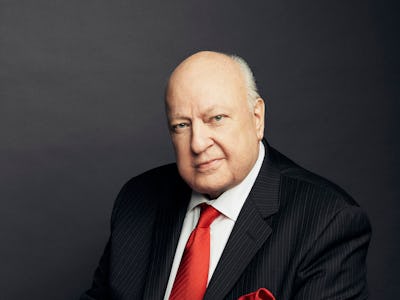 Getty Images / Handout
Fox News' founder Roger Ailes died Thursday at age 77, and while his family has not confirmed the cause, TMZ reports he had a bad fall last week and never recovered.
Ailes was a controversial figure who spent the last year mired in scandal, over alleged sexual harassment, with the network he founded in 1996 after Rupert Murdoch hired him from CNBC. Ailes lived in — and, arguably, helped to manufacture — some rather interesting times.
Born in Ohio in 1940, Ailes's career bounced between television and politics. He worked at news stations in the 1960s, where he first met Richard Nixon. Notoriously terrible on screen, Nixon is thought to have lost his first run for president because his opponent, John F. Kennedy, looked better on TV. Nixon hired Ailes to serve as his producer on his second presidential campaign, which Nixon won.
From there, Ailes worked on numerous successful campaigns for Republican politicians, including Ronald Reagan and George H. W. Bush. But in 1996, he pivoted back to his original career — television — when he became the founding CEO of Fox News. Under his leadership, the channel became an incredible force in TV news, with top primetime ratings.
His tenure at Fox ended in 2016 when he was ousted over accusations of sexual harassment that stretched back decades; allegations which he, of course, denied. He reportedly spent some of the last year advising then-candidate Donald Trump.
Ailes's widow, Elizabeth Ailes, announced his death on the far-right website Breitbart News, without citing the cause. TMZ, a successful but sometimes incorrect gossip website, reports that "sources tell TMZ Ailes fell at his Florida home 8 days ago and hit his head. We're told Ailes fell unconscious and his condition went downhill. Our sources say he fell into a coma Wednesday and died Wednesday night."
The reaction to the news on Twitter has been, like so much of Ailes's life, starkly divided. Many are calling attention to his career as a propagandist and his persistent sexism.
Fox News talking head Sean Hannity, who said Ailes is like a father to him, had a lot of nice words to say, posting a stream of more than fifteen tweets about Ailes on Thursday morning.
You May Also Like:
Who Was Roger Ailes? 5 Defining Moments From his Life
Roger Ailes Explains Why He Wasn't a Democrat in This 2010 Interview
Brain Scans Reveal Why Your Family's Political Debates This Holiday Were Futile
Bill O'Reilly's Legacy on Climate Change Is Full of Doubt