5 Pivotal Moments In the Life of Roger Ailes
A lifetime of politics and propaganda.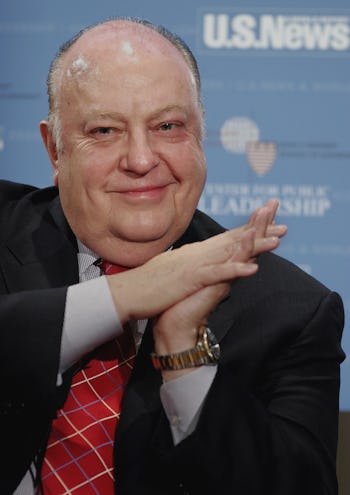 Getty Images / Getty Images
Roger Ailes, who died Thursday at age 77, appears by all counts to not be the greatest guy. He was, however, present for some of the most important moments in the last 50 years of American history. So who was this guy that launched Fox News in 1996? Here are five key moments that defined Ailes's life and, ultimately, shaped the current political climate.
1967: Meeting with Nixon
Early in his career, Ailes worked at several news stations. It was in a TV interview, in 1967, that Ailes met then-presidential candidate Richard Nixon. Notoriously terrible on screen, Nixon is thought to have lost his first run for president in 1960 because his opponent, John F. Kennedy, looked better on TV. After their on-air encounter, Nixon hired Ailes to serve as the television producer for his second campaign. Nixon won that round, many say to Ailes's credit.
1968: The Selling of the President — and the Selling of a Play
Nixon's media strategy was detailed in the 1968 sensation "The Selling of the President," a book by Joe McGinniss. The campaign had given McGinniss carte blanche with their story and he reported the hell out of it. In the book, Ailes is quoted as bad-mouthing his boss — an indiscretion he was later booted from the White House over. This led to what Rolling Stone called the "oddest chapter of [Ailes's] professional life: a stint producing off-Broadway plays.
1988: The Revolving Door Ad
Eventually, Ailes's political consulting career rebounded. He went on to advise Reagan and then George H.W. Bush on successful presidential campaigns. In 1988, he produced the infamous "revolving door ad" for the Bush campaign, which accused Bush's opponent Michael Dukakis as being soft on crime. The ad employed Hollywood thriller motifs and, according to polls at the time, really did change voters' minds.
1996: Founding Fox News
After decades as an advisor to presidents, Ailes pivoted back to his original career: television. In 1996 he founded Fox News, which White House memos suggest he began dreaming up back in the Nixon era. Under his leadership, the channel became an incredible force in TV news, with top primetime ratings and a stronghold on the national psyche. There's actually been a lot of science on this "Fox effect." For example, evidence has proved the obvious — that Fox News viewers have a very different view of political events than average Americans. And some interesting, but imperfect, data also suggests it may have directly influenced voters in the contested Florida elections that gave George Bush the presidency in 2000.
2016: Denying Serial Sexual Harassment
Last summer, former Fox News host Gretchen Carlson sued Ailes for sexual harassment. Her lawsuit alleged Ailes told Carlson: "I think you and I should have had a sexual relationship a long time ago." Ailes denied the claims, though he settled Carlson's lawsuit. However, her allegations only served to open up the floodgates. They were followed by numerous public accounts of Ailes's unwanted advances and comments from Megyn Kelly and others. Eventually, Ailes had to resign.
You May Also Like:
Roger Ailes Explains Why He Wasn't a Democrat in This 2010 InterviewBrain Scans Reveal Why Your Family's Political Debates This Holiday Were Futile Bill O'Reilly's Legacy on Climate Change Is Full of Doubt