Seven Ways Migos Are Technology Geniuses
Their technological prowess does not end at memes.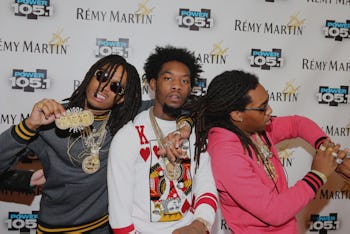 Getty Images / Neilson Barnard
Rain drop, drop top — what came first, Migos memes or their reign over hip hop? Separating the rise of the Atlanta trap trio from their increasing ubiquity on the internet isn't easy because so much of their success owes to their savvy manipulation of technology.
What the viral meme-ification of the group's hit, "Bad and Boujee," drove home this year is the fact that Quavo, Offset, and Takeoff aren't just talented triplet droppers but also masters of tech. Not that this is surprising in the least: They've been talking about it for years. Here are seven examples of how the grasp that Migos have over technology influences our lives in unexpected ways.
7. Optimizing Social Media Reach
The now-ubiquitous hit "Bad and Boujee" highlights the use of social media as a platform for fame: "And they bustin' for Instagram, get your Klout up," Quavo raps in a line approving of models who flaunt their bodies online. They have a point: Why not court your audience for likes in order to improve your score on Klout, an analytical tool for assessing a person's social media skills? Migos's no-shame attitude is practical, millennial, and most of all, indicative of their understanding of social media's importance in the cultural milieu.
6. Forgoing Cash For Digital Money
On the 2014 No Label II single "Emmitt Smith," Migos rapped: "Came a long way from kicking doors, now people they pay me in PayPal." This is a fine representation of the integration of good business practices with existing technology in order to maximize efficiency. Why get your hands dirty with cash when you can have it sent, tracelessly, straight to your bank account? By using Paypal over Venmo or Square, Migos hints that they're collecting money from people outside the United States — at the time, PayPal was the only international money transfer app in existence (the company has since bought Venmo).
5. Using Yahoo to Download (Illegal?) Software
"Two years before 'Versace,' we got some equipment somehow, and we downloaded software on Yahoo, it was free," Offset told the Fader in an interview this year, describing the trio's humble recording beginnings. There's a lot to unpack here: First off, Migos was using Yahoo, which at first consideration suggests they weren't savvy enough, in 2011, to use a better search engine. But reflect on how unintuitive Yahoo's search function is: Anyone who can find a useable download in its results has got to be a tech genius. Later in the interview, Offset admits, "We didn't have no money," which may hint that the software Migos downloaded was free or even pirated — more evidence that they were more than well equipped to deal with tech, even in its sketchiest form.
4. Taking Advantage of Rideshare Apps
Later in "Bad and Boujee," Offset raps the line "Courtside with a bad bitch/ Then I send the bitch through Uber." While Migos could certainly be more forward-thinking in the terms they use for women, they can at least be commended for their mastery of the ridesharing app Uber. While the app is ubiquitous in some 580 cities worldwide, not everyone knows how to use it to drop off a friend without having to be in the car themselves. If you are one of those people, find out how to do it here.
3. Using Social Media as a Dating App
On "Call Casting," the second track off this year's Culture, Offset raps: "All my bitches from an app/Instagram and the Snaps." While there's little doubt the men of Migos are aware of actual dating apps, this line suggests they are also aware of the drawbacks of said apps. If Offset was into Tinder, he would have said so; instead, he claims to have success with Instagram and Snapchat, where the goal of finding someone else is less explicit. Perhaps he prefers Instagram because it allows him to evaluate a future beau's popularity among other suitors; his preference for Snapchat, however, requires less speculation.
2. Understanding the Importance of Burner Phones
On "Big on Big," another track on Culture, Quavo raps: "Six cell phones and I ain't social," boasting about his need for multiple phone lines in order to avoid being traced by the police. This has long been a fairly common drug dealer trope, but it's especially wise in the age of iPhone camera hackers and fingerprint thieves. In this line, he also acknowledges the crippling loneliness that's found to accompany heavy social media use: Scientists are continually discovering that increased social phone use is actually linked to more intense feelings of social detachment.
1. Dabbling In Space Tech
Migos's technological prowess is not constrained by the internet. On the last track on Culture, Takeoff raps, "Vacate trips to Cancun, spaceship trips to the moon." It seems as though he's not only up to date with Mark Zuckerberg's offerings; he's well aware of the offerings of tech lord Elon Musk, as well: Unfortunately, at their net worth of $4.3 million, Migos is not quite ready to buy a $90 million ticket for SpaceX's moon trip, but they get points for imagining it to be as feasible as a trip to Mexico — that's future-facing thinking at its finest.