Snapchat's Glasses are a Hit
The company released the video-camera Spectacles on Thursday.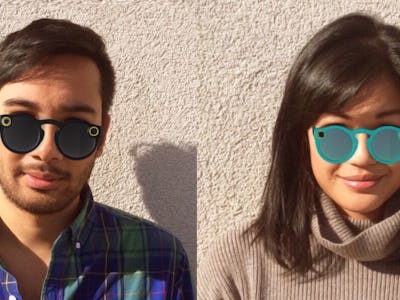 It feels like the Snapchat Spectacles got here in the blink of an eye. In late September, the startup announced that it would introduce a camera-sunglasses hybrid that could capture video and photos for the platform. On Thursday morning, a vending machine called a Snapbot appeared in Venice Beach, California, near Snapchat's headquarters and began selling the product for $130 a pair. While some may be skeptical the Specs, it looks like they have a good chance to integrate into how people use the app.
Sure, Google Glass was a major flop. But Snapchat's Spectacles have a few things going for them that could make them viable for the company. First of all, they actually look kind of cool, or at least similar enough to regular sunglasses. Because of their aesthetic, people are going to feel a lot less self-conscious about wearing them around than Google Glass owners were. Snapchat's major audience is a younger crowd, millennials that welcome new technology. While Spectacles themselves might not completely revolutionize optic-based wearable technology, it's likely to be a first step.
The official Spectacles Twitter account clued people off that the product would be available. According to Mashable, the Snapbots are the only way to buy the glasses for the first few months.
All morning there have been long lines of Snapchat enthusiasts excited to get their hands on the glasses. Snapchat employees have even had to come and replenish the bot.
For now, Spectacles are only available in the United States. The Snapbots will begin to appear in different locations, which will be revealed on the devices' website, but will only stick around for each location for a day.
The glasses are recharged by putting them in the case, which holds four full charges and can itself be recharged by plugging a cable into the wall. They come in three colors: coral, black, and teal. Techcrunch explains that users tap a button on top to start video recording, which lasts 10 seconds or less, just like a typical snap. Users can wirelessly transfer the content over to their phones, which will show up in the Memories section of the app.
Video captured on the glasses gives that point-of-view experience. Check out this video that's on the Spectacles homepage:
To drive up excitement for the Spectacles debut, Snapchat released a Lens on the app that lets users try putting on a pair.
And it appears that people are going bonkers for the products. If the long line for the Snapbot wasn't enough, people are bidding like crazy on eBay. As of Thursday 1:40 p.m. Eastern, some bids have reached the $400 to $500 range. Some resellers are offering them for even $900.
It's only the first day and Spectacles are already creating this kind of buzz. It'll be interesting to see what happens once people from cities all over have access to them. Snaps may only last 10 seconds, but the fanfare for Spectacles will surely be longer.