Why Snapchat Glasses Might Be a Hit
Snapchat says they will be a hit at your next barbecue.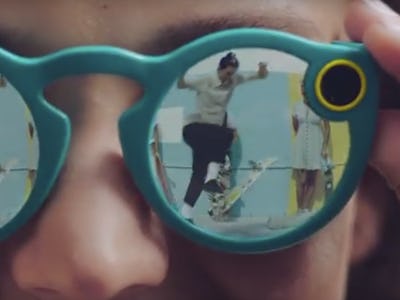 Snap/Youtube
Google Glass may have been a huge flop, but that hasn't deterred Snapchat from launching Spectacles, a product that will allow users to capture video for the platform. The $18 billion-dollar startup also announced it will change its name to "Snap," suggesting that chatting will no longer be the main focus of the business.
In a very hip yet vague promotional video released Friday, the company demonstrates a user wearing the glasses while skateboarding. According to the company, the wearable will transmit recordings directly to the user's phone using wireless technology. The video is captured in a circular format but, as demonstrated in the promotional video, it can be viewed in both landscape and portrait on phones.
Snap CEO Evan Spiegel told press at the Venice launch that the Spectacles, which come in black, teal and coral, capture video with a 115-degree lens, making it much wider than traditional smartphone video. It also, much like Google Glass, allows viewers to shoot video at eye-level, giving consumers a chance to record the world exactly as they see it. Like Snapchat, the Spectacles only record video in 10-second intervals, but users can keep tapping the side of the glasses to being a new recording.
The long-rumored glasses will be released this fall for $129.99, but only a limited number of pairs will be available.
When the Wall Street Journal asked Spiegel why the company wanted to venture into commerce and release Spectacles, he replied: "Because it's fun." The colorful design and marketing as a "toy" could help the product succeed where Google Glass failed. Snap isn't trying to change your life, it's trying to make it more entertaining. Google has more or less ended its mission of making Google Glass appealing to consumers and instead is now focused on making the product more appealing to enterprise services.
Early this year Snap made it clear it was ready to compete with iMessage and Facetime when it rolled out updates to its chat service and introduced video calling. Spectacles shows, however, that Snap has ambitions beyond being a smartphone app and is ready to take on the hardware game. In the company's new Twitter account, it describes Snap as a "camera company," which means Spectacles is probably just the first of a line of products we can expect from the company.