Google Glass Quietly Returns as Privacy Sensitive Business Hardware
An FCC filing shows a bulkier, but less intrusive attempt to augment workplace reality.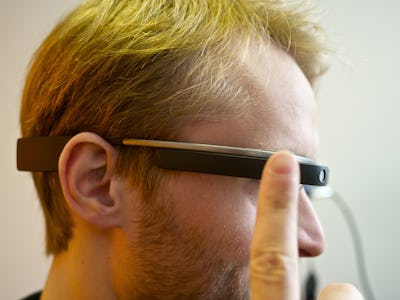 Karlis Dambrans/Flickr
A filing with the Federal Communications Commission has made images of the latest iteration of Google Glass publicly available for the first time and though the product doesn't appear vastly different, the changes made are indicative of the technology's ongoing evolution. Glass was given a substantive rethink and a new name, Project Aura, after its initial release was met with mixed reviews and no small amount of scorn. The ire aimed at "Glassholes" during the "Explorer Program" was largely based on the idea that wearers could film without the knowledge of their subjects. The new Glass is designed to put that concern to rest and to provide a bit more practical value.
In the very abridged users manual now available on the FCC's site, the built in camera is explained in four sentences: "The camera button is located on top of the device near the display. Press the camera button to take a photo. Hold it down to record a video. The green light shows when the camera is on." The major point here is that light. No one will have to worry about Glass wearers secretly filming them using a computer designed to look fashionable and somewhat sleek. The new Google Glass is defiantly chunky and distinctly unfashionable. It's fairly clear that the idea of augmented reality streetwear has been — at least temporarily — shelved.
Google refers to the new Glass as its "Enterprise Edition," meaning it's built for businesses, particularly those signed up for the "Glass for Work" program. Astro Teller, the leader of Google X, has hinted that there will be no retail option. This means it's likely that Glass will morph into a tool for workers who need to frequently reference information they cannot be expected to retain (think: contractors, doctors, and coaches). Adoption in the medical field seems particularly likely because having a camera rolling during procedures could create opportunities to save on insurance.
It's also worth noting that the device appears to be a bit more rugged than its predecessor. Much has been done to make it more water resistant and to increase its battery life. With the pressure to make Glass look cool — something of a pipe dream anyway — gone, the designers have bulked it up, adding significant computing power and function. Don't expect to see the "Enterprise Edition" on the streets any time soon, but don't be surprised if you start seeing units on work sites and in Emergency Rooms by the end of 2016.