Migos and an Orchestra Combine for a Trap Symphony
"Hannah Montana" like you've never heard it before.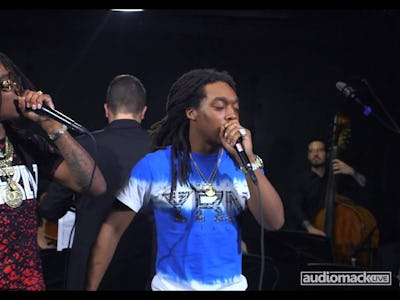 YouTube
Migos' sound is loud and intense. Their rapid-fire delivery sparked the "Migos flow" trend, and their production often sounds just as upbeat. But behind all the flourishes, it's really just some bass, drums, a melody, and some bells. Audiomack envisioned a stripped-down Migos and brought Quavo and Takeoff (the third Migo, Offset, is currently in jail) together with a nine-piece classical orchestra to perform "Hannah Montana." Premiered by The FADER, the song places heavier emphasis on their vocals, which stand out against the subdued strings.
Strings and hip-hop are a fantastic combination that produce classics when employed effectively. Dr. Dre, for example, incorporates orchestral elements for his iconic and ambitious 2001. And if you don't have a favorite Kanye West string section, you're not listening right (mine's "Bad News"). Migos' new album, Yung Rich Nation, is out July 31 on Atlantic/300/Quality Control. Expect Migos greatness, but probably not strings.