The 'Netflix Personal Trainer' Locks Your Account if You Slack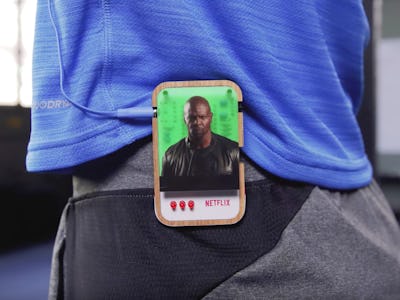 Netflix
If you've ever exercised and wanted Kimmy Schmidt, BoJack Horseman, or Frank Underwood to give you that extra motivation, the enterprising engineers at Netflix have good news.
At Netflix Hack Day in January, a team of hackers came up with Commit Hack, which connects Netflix to fitness trackers like Fitbit. Out of Commit Hack came the Netflix Personal Trainer, which Netflix revealed Tuesday in a video and its Netflix Make It site.
"We know that people love watching Netflix, but people also have these goals that they want to achieve," says an unnamed engineer clad in a Netflix hoodie.
"If you can combine those together and use the enjoyment of Netflix to achieve your personal goals, that would be terrific," says another, adding this: "We won't allow you to watch Netflix unless you made progress on your personal goals."
The Personal Trainer uses Netflix to help users achieve their personal fitness goals. The user sets a threshold for activity level, and the Personal Trainer uses an accelerometer to monitor activity. You can use a Netflix character as your personal coach, depending on your style.
If you want tough love, you can choose characters like Jessica Jones or Frank Underwood. If you want comic relief, characters like Dustin Henderson or Titus Andromedon will make you laugh. And if you want positive reinforcement, characters like Queen Elizabeth II or Taystee Jefferson will cheer you on.
You can listen to words of motivation from these characters, and anytime you're slacking, the coach will mute or pause your music to deliver a pep talk.
This project also allows you to watch Netflix while you work out by connecting your Personal Trainer to your tablet or phone via Bluetooth. But if you slack off and just stall by watching Netflix, you're not going to get away — your show will pause every time you stop moving.
Users can set up the Netflix Personal Trainer, although it requires some know-how in building basic electronics and programming. You can check out the instructions and list of materials at makeit.netflix.com, and maybe you'll get that six-pack you've been dying for.