5  New Netflix Series to Get Excited About
From Marvel's 'Luke Cage' to Baz Luhrmann's 'The Get Down,' there's plenty to choose from.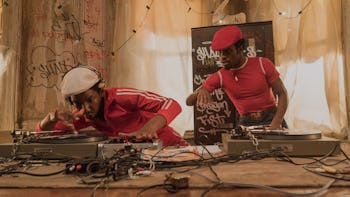 Although it often seems as if Netflix is giving us way too many options, there are some high-quality originals hitting the streaming service over the next few months. Netflix continues to put out shows in a wide variety of genres, from a mysterious new thriller to a musical drama set in the South Bronx. These shows seem set to prove it's not always quantity over quality.
Here's a look at five of the best new Netflix shows still to come in 2016:
Stranger Things
There's something supernatural happening in the small town of Hawkins, Indiana, but we'll have to wait until July 15 to start unraveling the mystery. Paranormal thriller Stranger Things marks the first major television role for Winona Ryder, who plays a stressed-out mother desperately searching for her son who has mysteriously vanished. Adding to the mystery is the sudden appearance of a girl named Eleven, who shows up with a shaven head, branded arm, and ominous warnings for the residents of Hawkins.
The show was created by Matt and Ross Duffer, who most recently wrote and directed the 2015 thriller, Hidden, and features a child actor-heavy cast. The trailer reveals just how markedly the show will be influenced by nostalgia for cult classic movies like E.T. and Close Encounters, complete with bike-riding, meddling kids, and supernatural powers messing with the electricity. The conspiracy-filled world of Stranger Things has the potential to become a great addition to Netflix's lineup, but here's hoping the nostalgia for the past doesn't drown out the show's own unique story line. Eight hour-long episodes of Stranger Things will be released on July 15.
Luke Cage
We're more than ready for the greatest superhero to hail from Harlem to have his own show. Luke Cage, the third show in Netflix's Marvel Universe TV lineup, is set to premiere on September 30. Actor Mike Colter stars in the first Marvel production with a black male lead since Blade, deflecting bullets with his unbreakable skin to the tune of "Made You Look" by Nas. Luke Cage also stars Mahershala Ali, Simone Missick, and Alfre Woodard, and is run by the very qualified Cheo Hodari Coker.
The Get Down
Baz Luhrmann says he has been developing The Get Down for the past ten years. From what we've seen so far, it looks like it's worth the wait. This upcoming musical drama is the coming-of-age story of a group of teenagers living in the gritty urban landscape of the South Bronx in the 1970s. Their stories coincide with the birth of punk, disco, and hip-hop, creating the perfect soundtrack to their youthful recklessness. The Get Down features a talented cast that includes Giancarlo Esposito, Jaden Smith (who plays a graffiti artist), and Dope's Shameik Moore. The first six episodes of the show will be released on August 12, with the rest of the first season to drop sometime in 2017 — a rare instance of Netflix spacing out a season of content.
The Crown
"It's not as easy as it looks," Queen Elizabeth II says in the trailer for The Crown, balancing the heavy golden adornment atop her head. This new drama will follow the British royal, played by Claire Foy of Wolf Hall, from her wedding in 1947 to the present day. Theres sure to be plenty of royal family drama, passionate debate about the power of the monarchy, and more than enough stuffy British intrigue to go around. The Crown was written and created for Netflix by Peter Morgan, who's best known for his work with historical films like Frost/Nixon and The Queen. Ten hour-long episodes of The Crown will be released on November 4.
Frontier
We still don't know much about this Netflix/Discovery drama, but the fact that it stars Game of Thrones' Jason Momoa is enough to draw us in. The first season is set to be released sometime in 2016 (everywhere except Canada, where it will debut on Netflix in 2018) and follows the violent power struggle of the North American fur trade in the late 1700s. Early photos of Momoa, who plays fur trader Declan Harp, reveal that his role will involve a level of violence and bloodiness that he's surely familiar with after playing Khal Drogo.
Netflix describes the world of Frontier as one where the company isn't straight ripping off The Revenant but a show in which "business negotiations might be resolved with close-quarter hatchet fights, and where delicate relations between Native tribes and Europeans can spark bloody conflicts." The first season's six hour-long episodes were directed by Brad Peyton, whose credits also include the 2015 disaster movie, San Andreas. The show, which will be told from multiple perspectives, also stars Alun Armstrong, Landon Liboiron, Zoe Boyle, Allan Hawco, and Jessica Matten.