There Just Too Many Netflix Originals
The overwhelming deluge of original streaming content makes it difficult to parse the good from the bad.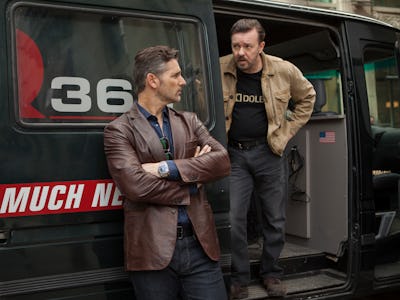 Netflix
Have you heard? Netflix has a lot of money, and a lot of original projects in the pipeline, like Ricky Gervais's new movie Special Correspondents, for one. It's all a part of their quest for total movie-streaming domination. With 30 Netflix originals — on top of over 50 original kids shows, documentaries, and stand-up comedy specials — on the way in 2016, it's going to be next to impossible to ignore Netflix's ubiquitous reach. They've come a long way since launching their relatively modest first original show, the since-cancelled Lilyhammer, in 2012. Though their early original hits earned significant praise (and awards hardware to boot), their strategy of embracing bold new material and essentially flooding the the streaming market to create something close to a monopoly has forced them to gradually rely far too much on the model of quantity over quality. There may be a lot of Netflix originals, but that doesn't mean there's a lot of notable Netflix originals.
There's no clear show to blame here, but the rapidity and amount of their original shows now make it a daunting task to keep up with all of them. The gems almost get lost in the mix. You can't fault an entertainment company to want a little variety for everyone in the family, but the sheer volume of Netflix originals negates a very important and fundamental fan connection to a given show or movie. It's almost impossible to be excited for and care about Netflix originals for an extended period of time.
There are some outliers. Aziz Ansari and Alan Yang's thirty-something New York comedy/drama Master of None shared a healthy level of buzz for a few weeks after its ten episodes premiered — but you could almost chalk that up to viewers wanting to compare it to the similar Paul Rust and Lesley Arfin-created, Los Angeles-set series Love, which premiered three months later. Even the heavy hitters feel exhausted.
Take House of Cards, Netflix's early award-winner that continues to trudge along well after it's initial splash. In its early seasons there was no competition to dilute the fervor for the show among Netflix's own ranks. People actually got excited about it, and it was a big deal, even beyond its premiere date. Now, season 4 seemingly came and went. It used to be an event, now it's a product of oversaturation on its own platform. It's just another drop in the stream of Netflix's smorgasbord of everything all the time. It isn't the only supposedly big recent original to pull a disappearing act from pop culture consciousness. Anybody remember Narcos?
The problem, it seems, is born out of the very method Netflix pioneered. Binge-watching could technically change for the better — the way stories are told over broad story arcs.
In fact it might actually be shrinking your brain. But more importantly it doesn't necessarily mean all stories should be told or watched that way. Some shows actually deserve to be digested in weekly 30-minute to hour-long bits. It's a nostalgia-free notion to want to be able to sit with and enjoy a series for a longer period of time because you get to actually stew over what it means — instead of being automatically whisked to the next episode in a matter of seconds.
Imagine having to continually absorb something as robust as an entire season of Mad Men in a single binge-watch? It's almost an insult to the densely packed narrative genius at the heart of that show. Or what about Syfy's current masterpiece, 12 Monkeys, which is heading into its second season and remains the most ambitious and intelligent genre series on TV? It's almost obvious that a show about time travel was meant to be watched over a long period of time to really feel the weight of what's occurring. Glossing over a single season in a day or two would water down the absolute mastery of what similar shows like those try to do.
But, perhaps unsurprisingly, those aren't Netflix originals. And though they could be it's neither here nor there because the problem isn't with the types of shows they create. Their ambitious upcoming shows like The Get Down and The Crown and Luke Cage can attest to that. It's just that there are too many other shows around it. This problem, weirdly enough, is something that hasn't burdened Netflix's clear rival: Amazon Studios. Maybe it's because Amazon is still fighting for streaming supremacy, but Amazon has taken a more measured approach.
Amazon seems to have outgrown their awkward pilot season model in which shows were picked up to series based on individual pilot streams. But now that they've grown to a point to be able to produce shows and films, but remain conscientious about audience overload. They too have run the gamut in order to bring subscribers a large swath entertainment choices across genres, but whether they drop a new season of Transparent or get experimental with something like the ill-fated Mad Dogs it never seems as overwhelming as Netflix. They're still trying new things.
Exact numbers are fuzzy due to each platform's caginess with total subscribers and viewers, but with about 10 million subscribers to Netflixs over 30 million, perhaps Amazon might start opening up the content floodgates if they become as strong. The thing is we have no real idea how to measure the reach or influence with any hard data because Netflix is in the enviable position of doing whatever the hell it wants and driving the conversation about itself. It's awesome, but it's also questionable, just like the way it empties out TV shows on the fiending streaming masses.
The normal TV model of longevity that Netflix tried to upend might be beneficial to the streaming giant. But it's become so powerful that there might be no turning back. It's up to viewers now to be more scrupulous, amid way too many options.