Netflix Will Soon Have More Original Shows Than Actual Cable Networks
Let the binge-watching begin.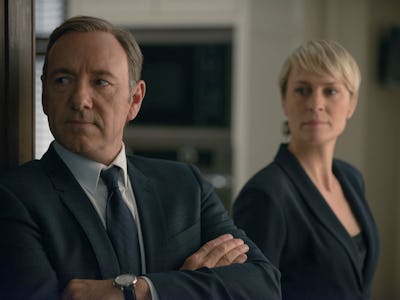 Netflix
With claims to an alleged 37 percent of all internet traffic during peak hours, it's safe to say that people watch a whole lot of Netflix. And now, they're about to get even more original content.
At the annual UBS Media Conference in New York earlier this week, Netflix's Chief Content Officer Ted Sarandos revealed that the streaming service is ramping up its original programming heading into 2016. The service premiered 16 original shows this year, but in 2016 that number will nearly double with 31. That is in addition to Netflix's 10 feature films currently in production or set for release, 30 kids shows, 12 documentaries, and 10 stand-up comedy specials, which puts Netflix ahead of many traditional cable-first channels when it comes to original programming.
Sarandos, sounding a little like a car salesman, told the conference attendees, "This is high quality stuff," and, "This is programming people want to watch."
Netflix is coming off back-to-back hits with two drastically different original shows in Jessica Jones and Master of None, and they racked up nine Golden Globe nominations for their original shows including Orange is the New Black in the best comedy category and newcomer Narcos up for best drama TV series. So they're also seeing their shows resonate critically.
This means one thing: There's going to be something for everybody, and that's how Netflix wants it. Sarandos, sounding like a car salesman, told the conference attendees, "This is high quality stuff," and, "This is programming people want to watch."
They've ramped up extremely fast in the nearly four years years of producing original programming. Netflix kicked things off only back in January 2012 with the little-seen mob dramedy Lilyhammer, which was canceled earlier this year. But its next original show, House of Cards, racked up a slew of Emmy nominations and more for its first three seasons with a fourth set for release sometime in 2016.
They've even continued to expand into different territory including period dramas like the Game of Thrones-esque Marco Polo — whose second season was announced in January — or thrillers like Bloodline — which will return for season two in 2016. Their Lily Tomlin and Jane Fonda comedy Grace and Frankie just picked up a second season as well. And Netflix even entered into the superhero business with Marvel to produce Daredevil, Jessica Jones, and the upcoming Luke Cage and Iron Fist.
This is all to say that Netflix shows no signs of slowing down, and if Sarandos' announcement is any indication it's that Netflix will continue to expand original programming until everyone can say they have their own favorite Netflix show.