The Best Netflix Original Shows to Binge Watch in 2016
Sit down, relax, and waste hours and hours with these upcoming Netflix shows.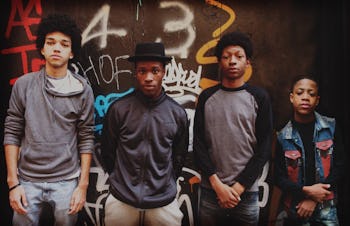 YouTube
Today Netflix went global. CEO Reed Hastings announced that people in 190 different countries (condolences, North Korea) are now fully sanctioned to stream Netflix, chilling optional. That makes it, in Hastings' words, a "global TV network," which means a lot of eyes will be firing up TVs to watch movies on the streaming platform in 2016. But once they're done with watching all the licensed movies and shows available, nearly everyone will also be able to watch the deluge of original Netflix shows.
With 31 new originals and a handful of returning shows to choose from,,, it's difficult to sift through the binge-worthy and the not-so-much. You could waste your time with the nostalgia-fest known as Fuller House or take a debauched dive into comedian Chelsea Handler's four-part docu-series Chelsea Does, but here are our picks of the best shows to binge this year.
5. The Crown
We know, a stately biographical drama about the British royal family doesn't necessarily shout out that it absolutely needs to be watched, but with Downton Abbey already over and done with in the UK and about to end in the U.S. on March 6, what else will fans of stuffy British intrigue watch? There's no premiere date for the show just yet, but an April debut would make people forget about Downton altogether.
This series, written and created by Frost/Nixon playwright Peter Morgan, will consist of 13 hour-long episodes that should sate viewers obsessed with anemics who have no cares more pressing than whom they can and cannot marry and which palace they should loll in for the summer. Obviously there will be a little bit more drama to the stingy British manners than that, and with Morgan also the guy behind the Oscar-winning 2006 biopic The Queen, it's safe to say he knows Liz (the Queen, to you), whose life is, point of fact, pretty damn interesting.
4. Peaky Blinders, Season 3
More British gangsters! We kid. But seriously, the early 20th-century British crime drama Peaky Blinders — led by kind of swoon-worthy, kind of creepy lead actor Cillian Murphy — has become a cult hit stateside because of its near ubiquity in everyone's Netflix home screen. You've seen it at least a few times while scrolling through, and chances are you've watched at least one or two episodes. Chances are, then, that you got hooked, watched both woefully brief 6-episode seasons, and cried the rest of the night because it ended on such a crazy cliffhanger and you wanted more. But fear not! There's no release date for Season 3 right now, and though filming began on the season this past October,,, expect to see the show pop up later this year when the weather gets cold again forcing you inside to watch six straight hours of TV.
3. *Lov
Sadly, Lena Dunham and Judd Apatow's thinkpiece-muse-as-HBO-show Girls will end in 2017. Between Aziz Ansari's recent hit Master of None and Apatow's forthcoming show Love, Netflix will have you covered for depressive 30-somethings in lurv. It's a good thing that Love, which was also co-created by Girls contributor Lesley Arfin, has two phenomenal comedic leads to force you into watching every episode starting February 19. Paul Rust, a name long associated with alt-comedy shows like Comedy Bang! Bang!, makes his debut as Gus; opposite him is Gillian Jacobs in her first post-Community show. Your binge will pay dividends: Netflix has already green-lit a second season to be released in 2017.
2. The Get Down
Only the dude audacious enough to transport Romeo and Juliet into contemporary L.A. and make The Great Gatsby into a CGI-laden 3D extravaganza could pull off a ridiculously over-the-top and expansive show that mythologizes New York City's burgeoning punk, disco, and hip-hop scenes in the late 1970s. Not much is known about director and creator Baz Luhrmann's audacious and fun-looking show, but it has Giancarlo Esposito in it and anything Giancarlo Esposito is in is totally worth watching. Also, Jaden Smith plays a graffiti artist. Based on the just-released sizzle reel alone the show will have an energetic pulse, a beat you can binge to.
1. Daredevil, Season 2
The first season of Marvel's first Netflix TV series was shaky at best with a lot of lead up to an anticlimactic payoff. Daredevil becomes Daredevil; now what? Still reeling from some friendly competition from Marvel's other Netflix show, Jessica Jones (probably the most thematically rich thing yet to come out of the Marvel Cinematic Universe), the showrunners behind the upcoming season of Daredevil realized they needed to step up their game.
By adding fan favorite the Punisher as an anti-hero, plus Daredevil's comic companion Elektra, the so-called "Man Without Fear" will have to do some serious soul-searching about why he chooses to run out into the streets of Hell's Kitchen as a masked vigilante every night. But that's basically every other superhero story, isn't it? At least Daredevil will have enough time to further explore that over its 13-episode arc. As an added bonus, Marvel will throw some shade at rival DC and premiere Daredevil's next season a week before the big budget Batman v Superman: Dawn of Justice movie hits theaters. That's a battle we'll enjoy seeing.