What It Means Now that Netflix Has Gone Global
Great news, we can watch 'Jessica Jones' in 190 countries.
by Sam Blum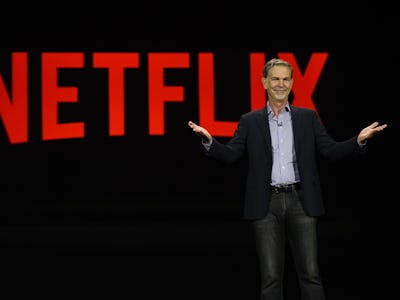 Getty
Netflix is going global. Company chief Reed Hastings announced today at CES in Las Vegas that the streaming service is now a fully-sanctioned entity in 190 countries, and boasted about "the birth of a new global Internet TV network" rearing itself for people across the world.
So, in effect, subscribers and those looking to pilfer the service from certain, non-participatory countries can bid farewell to this solemn message:
The convenience of Netflix helped create a vast empire of customers, amassing 65.6 million subscribers and a $42 billion valuation since it started streaming content in 2007. Netflix's emergence in previously untouchable markets across the world more than doubles its business: The service was previously available in a mere 60 countries throughout Latin America, Europe, parts of Asia, the United States, New Zealand, Australia, and India. Now, you can watch certain shows in 190 countries (There's only 192 member states in the United Nations, BTW).
So when you think about it, Hastings' remarks about a "global internet TV network" emerging are no joke. This hits especially hard when considering Netflix's original programming, which will sees shows like Jessica Jones and Making a Murderer flash across screens from Russia to Malaysia to Ecuador, giving the company some of the highest visibility of any internet-television service — or movie studio — available worldwide.
"From today onwards, we will listen and we will learn, gradually adding more languages, more content and more ways for people to engage with Netflix," Hastings said at CES. "We're looking forward to bringing great stories from all over the world to people all over the world."
Netflix will be deprived of access in North Korea, Syria, and Crimea, due to restrictions placed on United States businesses in those territories. The company is also working out plans to curry favor with China, which tends to bolster many of its homegrown tech corporations.