Punisher and Elektra Look Pretty Damn Normal in 'Daredevil' Season 2
Glimpses of the action don't give much away, only that Hell's Kitchen hasn't been gentrified.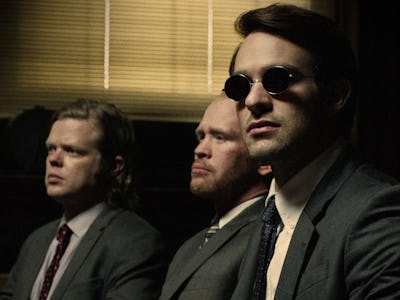 On-set pictures from Netflix's Daredevil Season 2 shoot got the Entertainment Weekly push today. And they show a remarkably normal looking Punisher either helping or vanquishing our masked hero.
UPDATE: A previous version of this article included an incorrect image. It has since been updated with the correct Elektra snapshot.
The Punisher, one of the few Marvel heroes who packs iron on the regular, looks like a very normal handyman here. This may be a reaction to the utter failure of prior portrayals. The TK version of the character may be deadly and vicious, but he'll likely be fairly normal given how emotionally grounded Netflix's hyper violent version of Hell's Kitchen has become. If new showrunners Doug Petrie and Marco Ramirez do as smart a job with him as Steven S. DeKnight did with Vincent D'Onofrio's Wilson Fisk, things should work out fine.
Also, we have a shot of our hero and Elektra (Elodie Yung) here, presaging the rumors that things get hot and heavy between these two characters this season.
It's just another teaser, which is to say that we can't draw many conclusions from the photo evidence. Still, it's exciting to see the much-anticipated season coming together.