Netflix Announces New 18th-Century Adventure Series Starring Jason Momoa
The six-episode first season of 'Frontier' will hit the streaming service in 2016.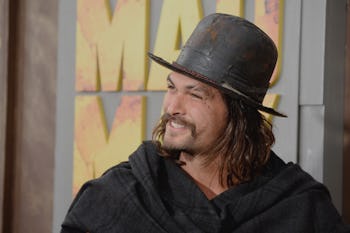 Getty Images
Jason Momoa is a total badass who deserves an equally badass TV series to showcase their joint levels of badassery. Since his character was (retro spoilers) unceremoniously offed a few seasons ago in Game of Thrones and his gritty Sundance Channel drama The Red Road was cancelled earlier this year, he's been in need of an outlet. Till now.
Variety reported that Netflix has ordered a six-episode debut season for a new show called Frontier starring Momoa that will be directed by Brad Peyton, the man who helmed the recent Dwayne Johnson disaster flick San Andreas. The show will premiere sometime in 2016 on the streaming service everywhere except for our neighbors to the north where it will debut on Discovery Canada and then move to Netflix Canada in 2018.
The show sounds like a less artsy version of The Revenant. It will be about the violent North American fur trade of the late 1700s and will be told from the different perspectives of the opposite forces of the region. According to Variety, "the series takes place in a world where business negotiations might be resolved with close-quarter hatchet fights, and where delicate relations between Native tribes and Europeans can spark bloody conflicts." So, yeah, count us in.
Not much else is known about the series, but it is set to co-star actors Alun Armstrong, Landon Liboiron, Zoe Boyle, Allan Hawco, and relative newcomer Jessica Matten.
Momoa is poised to break out in the next few years, and Frontier will look continue this hopeful streak. He'll next appear in Batman v Superman: Dawn of Justice as Aquaman in 2016 before getting his own standalone superhero movie in 2018. There's no word on if he'll be too busy to appear in the newly announced American Gods adaptation on Starz, but he's definitely our pick to play that show's lead character, Shadow.
Either way, Momoa remains the rare combination: a versatile actor with a truly intimidating, Schwarzenegger-esque physique. Frontier will let him prove he's not just another pretty face/torso.