New Trailer for 'The Revenant' Is Gritty and Intense
Look for director Alejandro Iñárritu's survivalist drama to factor heavily in Oscar season talk.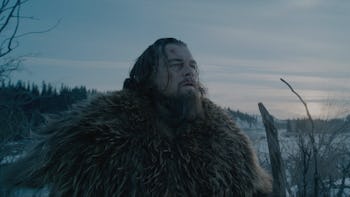 www.foxmovies.com/movies/the-revenant
20th Century Fox just released a new trailer for the Leonardo DiCaprio survivalist drama The Revenant, and hoo boy it looks intense.
The movie is based on the true story of nineteenth century frontiersman Hugh Glass who had to escape the treacherous American wilderness in the early 1800s after being left for dead following a brutal accident.
It's also director Alejandro Iñárritu's first movie since basically sweeping the Oscars last year with his navel-gazing performative dramedy Birdman. It's great that he's doing an about-face with this gritty survival/revenge story. Too much of his early career was just filled with wide-ranging, interconnected misery tales like Babel and Amores Perros that basically boiled down to how bad the world is. This also looks pretty miserable, but in the best way possible. Also, it has a bear attack and Tom Hardy doing another one of his patented marble-mouthed accents.
Also worth noting is the interesting connective tissue it shares with Iñárritu's BFF Alfonso Cuarón's Academy Award-winning space survivalist movie Gravity. It seems like The Revenant is going for the opposite end of the spectrum, saying that terra firma is just as cruel as the sweeping dangers of space. They both also feature similar floating cinematography by another Iñárritu and Cuarón BFF, Emmanuel Lubezki, who has been on an Oscar streak of his own the last two years for lensing both Birdman and Gravity.
Mark this one on your calendar to hit theaters Christmas Day, and look for Iñárritu and Lubezki to factor heavily into Oscar season talk. Will it also be enough to nab DiCaprio his first golden statue for Best Actor? We'll have to wait to find out.