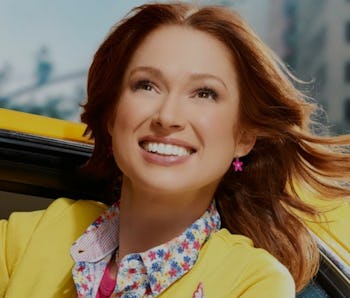 Entertainment
'Unbreakable Kimmy Schmidt' Season 2 Guest Stars Include Tina Fey, Jeff Goldblum
From Jeff Goldblum to Fred Armisen, season 2 of Netflix's 'The Unbreakable Kimmy Schmidt' is packing in the guest stars.
As we near the April 15 release date for Netflix's best sitcom, The Unbreakable Kimmy Schmidt, the showrunners are finally revealing tantalizing details about what to expect in the sitcom's sophomore season. On Wednesday, the network revealed an all-star list of guest stars that includes EP Tina Fey, who returns for a second go-round.
Fey (who played attorney Marsha Clark in Season 1) is going to be back as a different character, therapist Andrea Bayden. Amy Sedaris, meanwhile, is set to reprise her role as floundering divorcee Mimi Kanassis, a woman who was probably best remembered from season 1 as throwing a boob-rubbing temper tantrum on Jacqueline's Carrera marble.
In terms of newcomers, Kimmy Schmidt is really stacking the deck. Fred Armisen is going to lend his particular brand of insanity as a love interest for Carol Kane's Lillian.
TV Veteran Anna Camp (HBO's True Blood) will play "Deirdre Robespierre, Princeton-educated trophy wife, queen of New York society, and a rival to Jacqueline."
Because you can never abuse hipsters too much, Zosia Mamet (Girls) and Evan Jonigkeit (X-Men: Days of Future Past) have signed on to play Sue and Bob Thompstein, "an Austin hipster couple."
As Dr. Dave, a TV personality in the mold of Dr. Phil (we're assuming), Jeff Goldblum is set to dig into Kimmy's bunker-filled past with the Mole Women.
And, though there's no real context for the plot, you can't be mad about David Cross doing a guest shot as "Russ Snyder, attorney for the Jewish Art Reclamation Project."
At the moment, the only thing we really know about season 2 of Kimmy Schmidt is that it's going to be insane, which is absolutely on par with what you'd expect from Tina Fey and Robert Carlock, the creators of #30 Rock. However, if the extensive line of talent queued up for season 2 is any indication, Kimmy Schmidt* will not disappoint.