Fuck It, Give 'Deadpool' an Oscar Nomination
An unlikely contender has never been more worthy.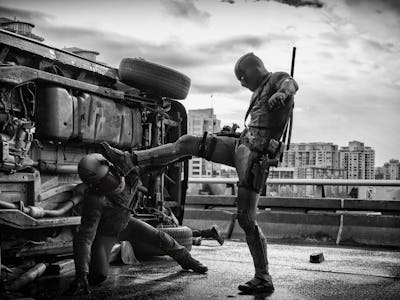 Last year's Deadpool was many things: satirical, violent, offensive, maybe even romantic. It was profane, and it was a success, even with a news-making R-rating as a superhero movie released in February, far from the warmth of summer. But a year after its release, could it also be "Oscar-worthy"? Hell fucking yeah, it can.
Awards season has arrived and the question is being asked, as legit momentum builds for Wade Wilson. It began in December when Deadpool, Tim Miller's directorial debut, was given a Golden Globe nomination for Best Picture in the (sort of broad) comedy or musical category. It wasn't the first superhero film to do so — The Incredibles lost to Sideways in 2004 — but Deadpool is the first Marvel film, an R-rated one at that, ever in the running. Deadpool is now in unlikely competition with comedy-dramas 20th Century Women, Florence Foster Jenkins, and the dreamy musical La La Land.
Then came four Critics' Choice nominations, including best action and best comedy. Then, the Writers Guild Awards named Deadpool, written by Rhett Reese and Paul Wernick, a contender for best adapted screenplay. In that same category are Eric Heisserer's cerebral sci-fi Arrival, Tom Ford's noir thriller Nocturnal Animals, and Allison Schroeder's Hidden Figures, a biographical drama about three African-American women who helped NASA lead the space race. And Deadpool is among them all.
It seems all the major awards recognize the foul-mouthed killer's cred, except the Oscars. (For now? The Academy will announce nominations on January 24.) But why shouldn't the Academy of Motion Picture nominate Deadpool? That it stars a comic book character, one concocted from a puerile era in the medium's history, shouldn't handicap it against more believable frontrunners like Manchester by the Sea. If anything, it's why Deadpool belongs in the first place.
Throughout his existence, Deadpool has gotten away with murder. Co-created by Fabian Nicieza and the polarizing Rob Liefeld in 1992, Deadpool — an assassin subject to military experimentation — got his own series in 1997 from Joe Kelly for a mega influential 33 issues. "[W]e could do anything we wanted because everybody expected [it] to be canceled every five seconds, so nobody was paying attention. And we could get away with it," Kelly said in 2009.
Got away with it he did. Kelly's Deadpool was renowned for its unique fourth-wall breaking humor that lampooned mainstream comics while forming its own voice, like in the elder firecracker Blind Al (played brilliantly by cinema legend Leslie Uggams). These comics were the blueprint for Miller's Deadpool, which came to life after an intense fan campaign followed "leaked" footage that went viral and pushed Fox to greenlight. People wanted Deadpool, and they got Deadpool. It broke box office records as an R-rated superhero film, a pink unicorn in the era of four-quadrant blockbusters.
Besides its brilliance as a clever action-comedy, Deadpool — which saw Ryan Reynolds offer a performance overdue in his career — is an honest parody of the polished films from Marvel, Warner Bros., and even Fox, which has complicated the X-Men beyond comprehension. Superheroes have been the definitive cinema genre for the last two decades, but here comes Deadpool, slicing and dicing overused tropes and dropping F-bombs while committing to his vengeful pursuit of a prototypical British bad guy. It wasn't a perfect film, no film can be, but it also wasn't the pretentious work of a "pretentious" filmmaker — like Birdman — or another safe multi-million blockbuster for general audiences. Deadpool was in so many ways like its star anti-hero, and clearly, he means something beyond its big screen story.
The popular frontrunners for Best Picture certainly deserve the statue more. In Trump's bleak, constrictive America, Loving, Arrival, and Moonlight — a poetic and beautiful picture about black queerness — will be oxygen. Hidden Figures puts the deserved spotlight on women and minorities in STEM, and Silence is a gorgeous epic from master craftsman Martin Scorsese. But there's still no reason Deadpool can't have a spot on the table. And if no one's looking, he just might take it.