'Black Sails' Cast Discusses Charles Vane's Last Words
An exclusive look at the 'Black Sails' Season 3 DVD bonus feature "A Pirate's Last Words," featuring Zach McGowan and Tom Hopper.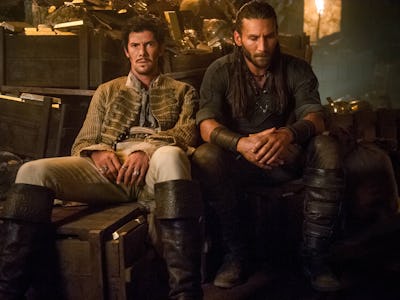 Starz
Season 3 of Black Sails was the most epic stretch of episodes yet. There were jaw-dropping action sequences like Episode 8's carriage-chase and the finale's gritty beach-battle; there were Shakespearean speeches from Flint, and the introduction of intriguing new characters like Blackbeard, Woodes Rogers, Madi Scott, and Ben Gunn. Bold, splashy, yet elegantly written, Season 3 solidified the show's place at the top of peak TV.
And that's not even mentioning its feats in character development: The formerly selfish John Silver finally came into his own as a compassionate Quartermaster, a formidable strategist, and a true friend to Flint; Jack Rackham upped his coat tassel game and proved his mettle; Billy Bones became a leader in his own right; and we finally got to see Anne Bonny assert herself by swim-boarding a ship and commanding a crew.
Spoiler alert, Season 3 also brought the hardest-hitting death yet. The one and only Charles Vane met the noose, ending his short but bright career with the most badass last words possible: "Get on with it, motherfucker."
If you were moved by those words, good news: The upcoming Season 3 DVD & Blu-ray will take a deep dive into that scene with commentary from actors Zach McGowan (Charles Vane) and Tom Hopper (Billy Bones). Inverse got an exclusive sneak peek at the bonus feature. Check it out below.
If you missed our Season 3 post-mortem discussion with Zach McGowan, you can catch it here, and if you are still seeking therapy after Vane's death, you can feel better here. The Black Sails Season 3 DVD & Blu-ray will be out from Anchor Bay on November 8.
The fourth and final season will air on Starz in January. In the meantime, Black Sails is coming to New York Comic-Con — stay tuned for the treasure trove of loot we'll deliver from that.